Vista Start Menu 6.3

Each time you start programs from the Start menu, you use the interface that has not changed for 10 years.

Developer:
OrdinarySoft
software by OrdinarySoft →
Price:
0.00
License:
Freeware
File size:
0K
Language:
OS:
Windows Vista

(?)

Rating:

0

/5 (0 votes)
Each time you start programs from the Start menu, you use the interface that has not changed for 10 years. No wonder that it becomes more and more difficult to use it due to the increase in the number of programs...

Vista Start Menu is a completely another approach to the interface. In the process of development we were oriented towards how people perceive information and also towards the ability to remember the position of items.

All you see in the standard menu is a long list and you have to read most names in order to find the program you need. Vista Start Menu will show program icons that is why it is a lot easier to find the program you need with just one glance. Besides, the programs are arranged in a table visually divided into sections, which also contributes to finding what you need in no time.

With Vista Start Menu, you just open the menu and click the program icon. If you need supplemental files installed together with the program, just move the mouse pointer over the icon and you will see a submenu where you can find all you need.

Vista Start Menu retains the position of icons that is why when you install or remove programs, icons remain in their places. You do not have to spend time on looking for an icons that has "slid away" as it usually happens in the standard menu.

You can also purchase an extended version of the program, which includes the following features:


Recently installed programs highlighted in color

Moving icons in the workspace of the window, place icons the way you find it convenient!

Quick Uninstall any program by just right clicking its shortcut. Read More...

Free subscription to all new versions of the program

Priority support and other useful functions, which are either already available, or will be added to the future versions

NOTE: The program uses a system of hooks for integration with the "Start" menu. A hook is a special library named VistaStartMenu.dll. It detects when the user moves the mouse pointer to the "start" button in order to replace the standard menu with its own one. Some firewalls detect adding new hooks because they can be used for spying and inform you about it.

Vista Start Menu neither spies on the user nor sends any data via the Internet if it is downloaded from the developers' official site. We are not responsible for software obtained from other sources.


Limitations
The PRO Version enable the unique feature named "one-click launch" and customize the menu the way you like it by purchasing the PRO version.

tags

start menu the program vista start you need icons that the start standard menu the standard menu you the pro pro version the mouse mouse pointer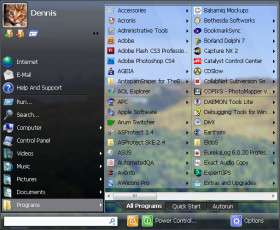 Download Vista Start Menu 6.3
Similar software


Vista Start Menu 6.3
OrdinarySoft

Each time you start programs from the Start menu, you use the interface that has not changed for 10 years.

Tidy Start Menu 4.33
OrdinarySoft

If you feel tired of searching for programs in the long "Start Menu" list, then this program is for you.

Menu Inventor 1.0a
micron developers

Menu Inventor is a free and useful menu manager utility - alternative to Windows Start.

IntegryDESK 1.41
NSoftware

Convenient and simple Program Launcher adding two toolbars to the sides of the screen.

Menurites 1.4.0.0
Johnsult

Menurites is a program designed to sort your Start menu and your Internet Explorer Favorites in alphabetical order.

Kana Launcher 3.0.0.29
Kana Solution

Kana Launcher is a Windows program that can be used to launch your favorite software or documents efficiently.

MSN Password Sniffer 1.0
mythusoft

MSN Password sniffer is a useful and handy utility that can capture MSN passwords.

Seek 2.0.2
Phi

Navigating the Start Menu can be a hassle, especially if you have installed many programs over time.

Sigma Launcher 1. Beta 20
Neodagger Systems

Sigma Launcher is an easy-to-use program launcher and window manager.

Vista Toolbar Icons 2013.2
Aha-Soft

Vista Toolbar Icons is a nice and eye-catching icon set - it can play a crucial role in creating any software product's image.