IntegryDESK 1.41

Convenient and simple Program Launcher adding two toolbars to the sides of the screen.

Developer:
NSoftware
software by NSoftware →
Price:
17.00 buy →
License:
Shareware
File size:
0K
Language:
OS:
Windows Vista

(?)

Rating:

0

/5 (0 votes)
Convenient and simple Program Launcher adding two toolbars to the sides of the screen.

These toolbars allow you to group together the shortcuts of frequently used programs, documents, folders etc. and get quick access to them;

Popup Start Menu provides you with quick access to the standard Windows elements such as My Computer, My Documents, Programs, Control Panel, My Network Places, etc. without having to move your mouse to the Start button, by just double-clicking the left mouse button anywhere on the desktop;

When several windows are open at the same time, it is not always easy to get to the desktop. Desktop Icons Manager adds a special icon to the Tray.

A click on this icon opens a popup menu with all the desktop items. Also Desktop Icons Manager allows you to save/restore the position of your icons on the desktop;

With Clever Headers right-clicking the caption allows you to minimize a window in such a way that only its caption is visible (rollup window), while right-clicking the Minimize button minimizes the window into the Tray.


Limitations
Limited to 15 days

tags

the desktop clicking the allows you the tray right clicking desktop icons quick access icons manager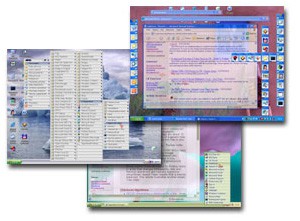 Download IntegryDESK 1.41
Purchase:

Buy IntegryDESK 1.41
Similar software

IntegryDESK 1.41
NSoftware

Convenient and simple Program Launcher adding two toolbars to the sides of the screen.

Active Virtual Desktop 2.01
Fly3 Software, Inc.

Ever wished you had several screens on your computer? Active Virtual Desktop is a virtual desktop manager which will create up to 9 virtual desktops allowing you to have different programs running on each of them.

AllToTray 4.6.3
DNTSoft

AllToTray is an application that lets you to minimize any window to your System Tray.

Advanced Launcher 1.33
Alentum Software, Inc.

Advanced Launcher is an application designed as a powerful toolbar and tray launcher.

Red Button 2.10
WhiteTown Software

Red Button is a very useful system tool that provides quick access to many of your computer's controls.

Kana Launcher 3.0.0.29
Kana Solution

Kana Launcher is a Windows program that can be used to launch your favorite software or documents efficiently.

Active Captions 1.51
Shelltoys Inc.

Active Captions is a handy utility that extends window's caption buttons with additional features.

Fk Desktop 3.017
Farkas Software

Why do you have only one desktop, if you can have as many as you wish? If you have installed a lot of applications, surely your desktop is full with icons and shortcuts to different archives and folders.

Favorite Shortcuts 1.8.3
ContextMagic.com

Favorite Shortcuts is a very easy-to-use quick launch utility that provides one-click access to the hierarchical list of favorite documents, programs and folders.

8start Launcher 1.4.1
8start.com

New era of desktop, start menu and quick launch is coming by a free application launcher 8start launcher.