Ultimate Jukebox 3.0

Ultimate Jukebox is a full screen capable PC Jukebox application.

Developer:
Tony Murphy Software
software by Tony Murphy Software →
Price:
19.00 buy →
License:
Trial
File size:
0K
Language:
OS:
Windows Vista

(?)

Rating:

0

/5 (0 votes)
Ultimate Jukebox is a full screen capable PC Jukebox application. It has been designed to turn your PC into a Jukebox and is the perfect Jukebox for your HTPC (Home Theater PC).

Ultimate Jukebox scans your system for music files (OGG, Mp3, WAV, WMA), and will display them in an easy to use GUI, like a modern jukebox. It can run full screen with large fonts, has a queue and multiple playlist levels.

Features include full control over fonts, colors & skins, album cover display, alarm clock, playlist creation, screen saver, support for untagged media files, party play mode (lock it down at parties!) and the power of Winamp!


Requirements
Pentium 1GHz, 128MB RAM, sound card & WINAMP


Limitations
The unregistered version of this software can only store 300 files in the music library and is limited to 30 day

tags

full screen ultimate jukebox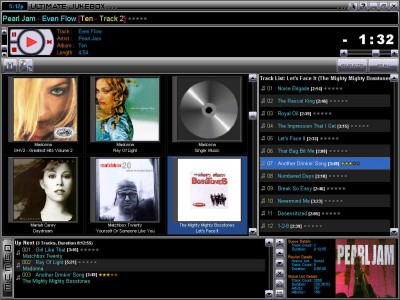 Download Ultimate Jukebox 3.0
Purchase:

Buy Ultimate Jukebox 3.0
Similar software

Ultimate Jukebox 3.0
Tony Murphy Software

Ultimate Jukebox is a full screen capable PC Jukebox application.

Virtual Music Jukebox 7.8.6
Digital Innovations LLC

Virtual Music Jukebox is the premier jukebox software that brings the look and feel of a Modern, Internet Ready, Bar Style Jukebox right to your desktop or stand alone Jukebox Cabinet.

DSH Jukebox 9.1
DSH electronics

DSH Jukebox is an elaborate music player, jukebox, database and utilities.

GDS JukeBox 2.0.0.35
GD Software Att. Brian Bergh

GDS JukeBox is a powerful jukebox for the PC.

BlueVade Jukebox v1.1
BlueVade Software

BlueVade JukeBox is a web based jukebox program for MP3 files.

Jukebox 2.1.0.234
Glenn Delahoy

Here's an easy to use jukebox to play your mp3/wav/midi/avi/wmv/wma media files.

Digital Jukebox 1.25
RastaWorld Production

Digital Jukebox is the first PROFESSIONAL jukebox system application designed for Acrade Cabinets and Windows Machines.

Jukebox pro 2.1.64
Jukebox pro

Jukebox operators, bars, DJs, and karaoke hosts will love this.

PSM JukeBox 1.0
Power Soft Makers

PSM JukeBox is first and foremost an mp3/wma player, and an mpeg/avi/wmv video player as long as the relevant codecs are present on your computer.

Jukebox Arcade 1.0.1
ExtraStrength Software

Jukebox Arcade was written to be used as a stand alone jukebox player.