Jukebox Arcade 1.0.1

Jukebox Arcade was written to be used as a stand alone jukebox player.

Developer:
ExtraStrength Software
software by ExtraStrength Software →
Price:
9.00 buy →
License:
Shareware
File size:
0K
Language:
OS:
Windows Vista

(?)

Rating:

0

/5 (0 votes)
Jukebox Arcade was written to be used as a stand alone jukebox player. I built it to turn my MAME arcade cabinet into aJukebox.

Its interface is designed around the use of Album Art as a visual aid to locating the music you want to play.

It has built in internet (Google/AllMusic/Walmart) search engines for locating album art, media tag editor and also includes abuilt in CD/MP3 audio extraction tool.

The program works with Media Player 9.0 or higher and fully supports its visualizations.


Requirements
Media Player v9.0
Limitations
60 runs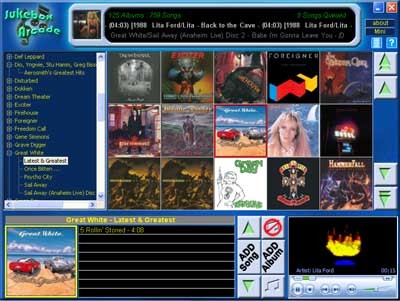 Download Jukebox Arcade 1.0.1
Purchase:

Buy Jukebox Arcade 1.0.1
Similar software

Jukebox Arcade 1.0.1
ExtraStrength Software

Jukebox Arcade was written to be used as a stand alone jukebox player.

Arcade Music Box 2006 22
Space Fractal

This is a simple Virtual Jukebox, Music Video and a Karaoke player with your digital music collection for your game room.

PSM JukeBox 1.0
Power Soft Makers

PSM JukeBox is first and foremost an mp3/wma player, and an mpeg/avi/wmv video player as long as the relevant codecs are present on your computer.

Virtual Music Jukebox 7.8.6
Digital Innovations LLC

Virtual Music Jukebox is the premier jukebox software that brings the look and feel of a Modern, Internet Ready, Bar Style Jukebox right to your desktop or stand alone Jukebox Cabinet.

RealOne Player 2.0 Build 6.0.11.872
RealNetworks

RealOne Player features a media player, music jukebox, and a built-in media browser to play the widest variety of streaming media formats on the Web.

BoxEasy Jukebox 1.9.7
Ziggyred Software

BoxEasy is a media player/organiser that uses Windows folder and file names rather than embedded (and often inconsistent) tag information to sort, display music tracks.

VSO Media Player 1.0.2
Vso-Software

VSO-Media Player gives you a convenient way to listen your music files from your computer.

Jukebox 2.1.0.234
Glenn Delahoy

Here's an easy to use jukebox to play your mp3/wav/midi/avi/wmv/wma media files.

Search and Play - Media Player 1.1.0
Brenaige Co.

Search and Play - Media Player is an audio and video player and it supports the usual file formats (such as avi, asf, wav, mp3).

Anywhere Media Player 1.05
Anywhere Enterprises

Anywhere media player is the easiest way play videos and access music over the web.