Powerbullet Presenter 1.44

Powerbullet Presenter allows you to easily create Flash presentations for sales, business or educational uses.

Developer:
DDD Pty Ltd
software by DDD Pty Ltd →
Price:
0.00
License:
Freeware
File size:
0K
Language:
OS:
Windows Vista

(?)

Rating:

0

/5 (0 votes)
Powerbullet Presenter allows you to easily create Flash presentations for sales, business or educational uses. Simple drag and drop interface means no technical expertise is required. Publish to the ubiquitous Flash format for maximum exposure.

Powerbullet is aimed at non-technical users. If you are familiar with a basic text editor you should be comfortable with Powerbullet.

Drop in sounds (MP3 or WAV files), images (PNG, GIF, JPEG) or Flash files (SWF). Create animations on any element in the page. Create page transitions - entry and exit - with the click of a button.

Type text directly into the layout area and add color, formatting, special effects such as drop shadows and animations. Or copy text from Word or other programs and paste into Powerbullet , retaining all the formatting.

Create sophisticated color effects using transparency, gradients and overlaps.

There is no need for timelines, channels or scripting. Move items around the layout - left/right, up/down, in/out with your mouse.

Powerbullet can exports the Flash movie in different modes, depending on your choice: for a standard slide-show, navigation buttons are automatically generated and added to the bottom of each page (or slide).

Or you can select auto-advance mode and have the slides advance according to a timer. You can also synchronize a page the the sound attached to it, so the page will wait until the sound has finished befor advancing. For kiosk use, you can select full-screen output mode, which works in practically all modern web browsers.

There are a few other handy features that make Powerbullet a cheap, simple, web-based alternative to Powerpoint, such as the timer feature. If you are giving a talk and want to synchronize the slides, you can click a record button for each page and try out your talk.

The page timer will then be set to the length of your talk. Other handy features include "auto-bullet", there you can type in a list of bullet points and have them all animate in sequence automatically
tags

you can the page other handy the sound handy features your talk the slides can select the layout each page you are and have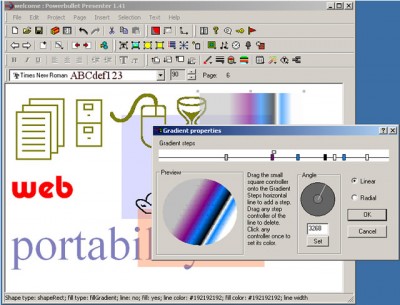 Download Powerbullet Presenter 1.44

Download Powerbullet Presenter 1.44

Similar software

Powerbullet Presenter 1.44
DDD Pty Ltd

Powerbullet Presenter allows you to easily create Flash presentations for sales, business or educational uses.

Web Page Maker 3.0
Web Page Maker Software

Web Page Maker will allow you to create and upload web page by drag and drop objects.

ImageMatics Flash Publisher 1858
Imagematics

Creates Flash multimedia slideshows from still images, self playing movies, web pages, auto play CD ROM, SWF (Flash).

Mix-FX 1.05
Trellian

Want to create Flash animations such as Flash buttons, Flash banners, Flash intros, Flash effects and Flash text effects, but don't have Macromedia Flash or don't know how to use it for complex Flash animations? Don't worry, Mix-FX comes to your rescue.

VeryDOC PowerPoint to Flash Converter 3.0
VeryDOC.com Inc

VeryDOC PowerPoint to Flash Converter is a stand-alone application that can convert PowerPoint to flash presentations, It is easy to use and provides accurate, small sized, file conversions.

SWFText 1.3
AntsSoft

SWFText is an author tool of Flash text animation.

SWiSH Presenter 1.0 2005.09.12
SWiSHzone.com Pty Ltd

SWiSH Presenter is the quickest easiest way to get your Microsoft PowerPoint presentations on the web! SWiSH Presenter works either within Microsoft PowerPoint as a plugin or as a separate application for batch conversion.

SWF 'n Slide Pro 1.023
Vertical Moon

SWF 'n Slide Pro is an extremely easy software application to take your digital images and music, and create professional slide shows in minutes to share with family and friends.

Opus Presenter 5.5
Digital Workshop

You've got a presentation to do.

Targa Menu 2.1
AdrianTNT

Targa menu XML is a useful menu made in flash but it does not require flash to run, you can use almost any HTML editor to insert the menu in a web page, it is a simple flash file (swf file), the menu can be customized by editing a configuration file (the XML file) that will be placed in the same directory with the menu, so you can customize the menu using any text editor.