WindowSurfer 1.9.20

WindowSurfer is a web browsing application with a 'Automatic Login' feature.

Developer:
WindowSurfer Software
software by WindowSurfer Software →
Price:
49.00 buy →
License:
Trial
File size:
0K
Language:
OS:
Windows Vista

(?)

Rating:

0

/5 (0 votes)
WindowSurfer is a web browsing application with a 'Automatic Login' feature.


It can not only fill in your usernames and passwords, it also enables you to set your selected multiple web-pages to load automatically on application start-up, navigate to the login page and then fill in the required information.

All this action happens simultaneously for multiple web pages. You do not have to wait in a queue for each page to complete.

WindowSurfer supports multiple tabs, multiple users and blocks popup windows. It loads multiple web pages in a single window under different tabs.

Its star attraction is a Sidebar (having Auto-Hide feature), where the user creates his or her own LINKS to one's web-sites of choice. Each of these links opens in its own tab. One can switch between the loaded links with just a click on the link's tab button.

All browser windows open within the main application, so no desktop clutter. With WindowSurfer one can create multiple accounts for users sharing the same computer.

Each user has its own settings, links, usernames and passwords which are accessible only with the user's individual master password. It uses industrial strength encryption to store user's passwords on their own computer, not on the internet. A user can Export and Import his or her settings to disk for backing up or transferring to another computer.

WindowSurfer smartly kills the Pop-Up windows before they are able to load, thus saving your internet bandwidth. It is fully compatible with Internet Explorer and supports industry standards for security and privacy. Besides, it has many powerful and useful features that will make your surfing easy, faster and enjoyable.

Features:

Automatically Login into your Online Accounts

Open Multiple Web Pages in a Single Window

Automatically Load Frequently Visited Web Pages

Block Unsolicited Pop-Up Windows

Store all your information on YOUR computer


Limitations
30 day trial

tags

web pages multiple web its own one can the user single window usernames and and passwords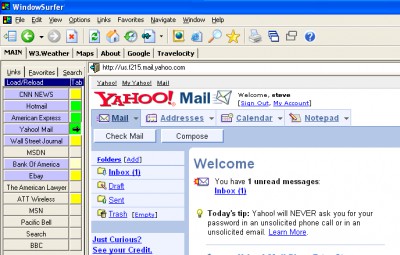 Download WindowSurfer 1.9.20
Purchase:

Buy WindowSurfer 1.9.20
Similar software

WindowSurfer 1.9.20
WindowSurfer Software

WindowSurfer is a web browsing application with a 'Automatic Login' feature.

FineBrowser Free 3.2.37
SoftInform

FineBrowser allows you to view multiple web pages in a single browser window.

1TabView 2.20
Grouppk.com Inc.

Change the way you browse the internet with 1TabView Get the next generation of browser by grouppk.

Microgarden WebTools 2.1
Microgarden, LLC.

Tabs for Internet Explorer are finally here! If you ever wanted to use tabs before, but didn't want to load a custom browser or any browser other than Microsoft's Internet Explorer, you don't have to wait any longer.

Html Password Pro 3.5
www.minihttpserver.net

Three layers encryption and Multi-page protection, visitors can browse all locked pages by logging in once HTML Password Pro is a program which protects all your Web pages with a group of usernames and passwords.
FineBrowser 3.2.38
SoftInform

FineBrowser allows you to view multiple web pages in a single browser window.

Logon Automator 1.0
Ivertech

Each time you sign up for a new account online, don't you wish you had a way to securely store the user name and password, and automatically retrieve them when you visit the site in the future? You don't want to have to write down the logon information for all your web-based e-mail accounts, credit card accounts, bank accounts, utilities accounts, stock trading accounts, etc.

Internet Resource Assistant 1.0.4
Crow River Tech

Internet Resource Assistant is an easy-to-use desktop application that will help you organize your website links, keep your login names and passwords safe and let you browse the Internet without leaving a trace behind on your computer.

Easy Password Manager 4.3.33
Polygon Enterprises

Easy Password Manager is a secure password management system that allows One-Click login to many Internet accounts.

Page Links 1.0
4ComTech

Page Links is a simple MDI ( Multi Document Interface) web browser based on Internet Explorer that allows the user to browse multiple sites simultaneously.