Turbosnap 3.0

Turbosnap is a powerful, yet easy to use screen capture utility.

Developer:
Relaxing Software
software by Relaxing Software →
Price:
0.00
License:
Freeware
File size:
0K
Language:
OS:
Windows Vista

(?)

Rating:

0

/5 (0 votes)
Turbosnap is a powerful, yet easy to use screen capture utility. Turbosnap enables you to capture the entire screen or the active window.

Taking your screenshots couldn't be easier, you can snap your images via hotkeys, or delay timer.


Built in are quick access to cut, copy and paste controls and a one click 'mail last snap' function, which will open an email with the last snap attached. If you take snaps often, you may like to use the autosave feature, which automatically saves every file you snap to your chosen directory.


Turbosnap features
One click capture and save

Runs discreetly in system tray

Snap via hotkeys or delay timer

Autosave function

No registration required

Completely FREE

tags

last snap one click delay timer via hotkeys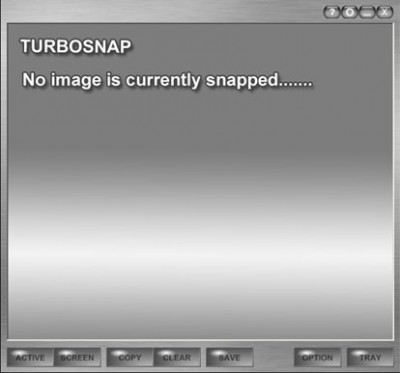 Download Turbosnap 3.0
Similar software

Turbosnap 3.0
Relaxing Software

Turbosnap is a powerful, yet easy to use screen capture utility.

Ashampoo Magical Snap 2.0
ashampoo GmbH & Co. KG

Ashampoo Magical Snap is a screen capture tool with powerful and intuitive editing capabilities.

HoverSnap 0.8
Hover Inc

HoverSnap is a small but powerful screen capture tool that can snap the entire desktop, the active window or custom areas on the screen and save the image to JPEG, GIF, BMP or PNG format.
GDS Screen Capture 1.0.0.6
GD Software Att. Brian Bergh

GDS Screen Capture is a simple to use Screen Capture tool.

Nicera Screen Capture 4.0
NICERA SOFTWARE

With Nicera Screen Capture application you will be able to capture anything, anywhere on the screen, instantly! Instant screen capture using only the mouse or with hotkeys! The easiest way of capturing images: · right mouse button click and hold · left mouse button click and drag selection Here are some key features of "NICERA SCREEN CAPTURE": · Selection types: free hand, polygon, rectangle, ellipse, any window, active window, desktop.

Softoria Capture 1.0
Ahmed Elragi

Softoria Capture is a quick-and-easy screen capture utility for Windows, which allows you to capture the entire screen, at any color depth and resolution.

Screenshot Utility 1.0
QSX Software Group

Screenshot Utility is a screen capture program.

Capture-It! 1.0
DigiSoft, LLC

Capture-It! is a screen capture application with many features designed to improve your productivity.

AnalogX Capture 2.01
AnalogX

Capture is a fast and simple screen capture tool for Windows OS (NT also), that will allow you to capture even the entire screen , at any color depth and resolution, and save it into a Bitmap file for editing.

Capture By George! 2.6
Svet-Soft

Capture By George! - make perfect screenshots easily.