Soundmasker 7.0

Sound Masker generates various types of noise.

Developer:
Relaxing Software
software by Relaxing Software →
Price:
19.00 buy →
License:
Shareware
File size:
0K
Language:
OS:
Windows Vista

(?)

Rating:

0

/5 (0 votes)
Sound Masker generates various types of noise. You can match and mix combinations and playback the output in realtime, or alternatively you can record the output straight to a mp3 or wav file, ready to create your own custom white noise masking CDs or Mp3s to listen to anywhere. You can also save as many of your configurations as you like - for example you may wish to save one to help you sleep at night and another to mask noise throughout the day whilst keeping you alert and focused.

Sound Masker is completely customizable and is ideal for the home or apartment to screen noise from neighbors, or in the office environment where it can help to keep conversations private and improve overall workforce productivity. Students can also acheive significant improvements in concentration when noise masking is used to cancel out external distractions, again resulting in improved productivity. Soundmasker is extremely easy to setup and use - no previous experience is required, yet is powerful enough to rival professional hardware noise masking solutions costing hundreds of dollars.


Requirements
DirectX8

tags

noise masking you can can also the output sound masker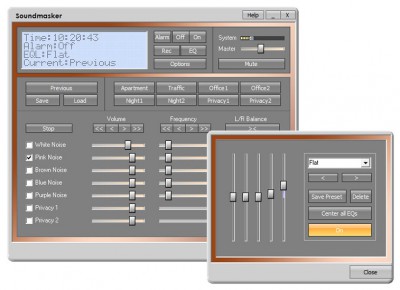 Download Soundmasker 7.0
Purchase:

Buy Soundmasker 7.0
Similar software

Soundmasker 7.0
Relaxing Software

Sound Masker generates various types of noise.

Tinnitus Masker Pro 2.1
Relaxing Software

Tinnitus Masker Pro allows you to choose from 14 different sounds and change their parameters so you can achieve the best masking effect for your tinnitus symptoms.

AMS Audio Masking System 1.00
NCH Swift Sound

The AMS audio masking system is a free tool that uses a Windows PC to create pink noise tones to assist to 'mask' confidential sensitive background conversations.

AudioNoise 1.2.0
ARTESON

The AudioNoise application can generate different types of noise: white, pink, and so-called physiological noise.

ChatterBlocker 1.1.0
The Sound Guy Inc

Introducting ChatterBlocker, the PC software that uses digital audio technology to mask the sound of speech and other distractions so you can stay focused in any environment.

White Noise Player 1.01
Carl Schell

If you have ever been in a situation while using your computer where the background noise in the room makes it impossible to work then White Noise Player is a very useful too.

Neural Noise Synthesizer 1.0
Transparent Ltd.

You've probably heard of noise.

Noise 1.2
Skrommel



WAVhum 1.9
Excla Inc

WAVhum is a useful, powerful and easy to use hum noise eraser utility.

RAE / Realtime Analyzer ENA 2.0.0.1
Yoshimasa Electronic Inc.

RAE is the advanced sound analyzer with the latest environmental noise measurement technology.