security › password managers generators

free software

Entropia Password Manager & Generator 1.3
Nikos Kourkoumelis

Entropia is an application which actually does two things: (a) Stores passwords using modern secure cryptographic methods and (b) Generates passwords using random or pseudo random options.

Tray Safe 4.3
F-Group

Tray Safe password manager allows you to save and protect your passwords.

Password Officer DeLuxe 5.0
COMPELSON Laboratories

Password Officer is a professional security solution for all password issues: generating, storing, securing, entering, organizing, changing, transporting and accessing.

PrivacyAssistant 1.7
ProductsFoundry



Passphrase Keeper 2.70
Swidgets

Passphrase Keeper safely stores and manages all your important information - user names, PINs, combinations, passwords, credit card numbers, including support for multiple databases, database backup, hotkeys, searching and sorting, and more.

Password Depot 15.1.5
Acebit

Password Depot is a powerful and extremely user-friendly tool for the management of all your passwords.

Friends & Accounts Lister v1.5
George Cost

The ultimate lister for net freaks! Export collected emails to your clipboard, your default email manager and call your friends using person-groups that have you created.

Secure Links 1.1
demotic

Secure Links has been developed with the purpose to simplify usage of password protected web sites over the Internet.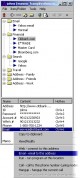 Aha Password and Info Manager 7.03.01
Fronture

You can store ID, passwords, and all the information securely in your computer or our network server and access it from anywhere on the glove.

Cresotech PocketSafe 1.32
Cresotech, Inc.

CRESOTECH POCKETSAFE provides the comfortable management and secure storage of passwords, nicknames, credit card, bank account and document data as well as other confidential information.

Password Organizer 2.1
Markosoft Inc

In today's world, there are new user names and passwords needed at every turn.

Password Saver 4.1.1
FRANZ AG

Password Saver is an easy-to-use, feature-rich solution for storing all your passwords in a secure, centralized database on your hard drive or a removable media disk.

Internet Password Keeper 1.4
Golden Dragon Computer Studio

Keeps username and password with other important info for various websites or forums.

Random Password Generator-PRO 12.2
Hirtle Software

Simply the most secure method to create passwords.

Password Safe and Sound 1.2.0
North Cardinal Software, LLC.

Password Safe and Sound allows you to store all your passwords and related information securely, in an encrypted file that only you can view using your defined password.

Password Architect 1.00
Dunning Software

Password Architect helps you generate secure passwords that very difficult to guess or crack.

Password Fortress 1.01
Dunning Software

Password Fortress is a secure password and private information management tool.

Cynapse InfoCryptor 1.50
Cynapse India Pvt. Ltd.

InfoCryptor is a multi-user secure information storage application that assists you to manage and organise your critical information.

Paraben's Password Manager 2.1.2
Paraben Corporation

Paraben's Password Manager is an easy to use personal password management program.

QuickLogin 3.0
Shafeek Mohammed

Using QuickLogin you can login to one or more websites in one click.

Password Protector 1.2
RjH Software

Use Password Protector to organize and securely store passwords, pin numbers and other sensitive information.

Password Generator Professional 2007 5.25
Kristanix Software

Password Generator Professional uses a high quality pseudo-random number generator to generate passwords.

Infinite Password Generator 2.2
Ikitek

Infinite Password Generator makes any number of different passwords for your use at websites and applications.

SPS 3.0.0.50
J. G. Stirling

A very convenient and easy to use but secure password, user name, key code or whatever text you wish, database.

WinProtection 3.0
Froebis Interactive

WinProtection protects your computer from unauthorized accesses.