QuickLogin 3.0

Using QuickLogin you can login to one or more websites in one click.

Developer:
Shafeek Mohammed
software by Shafeek Mohammed →
Price:
19.00 buy →
License:
Shareware
File size:
0K
Language:
OS:
Windows Vista

(?)

Rating:

0

/5 (0 votes)
Using QuickLogin you can login to one or more websites in one click.

You can securely store the username and password of all your login sites in a password protected QuickLogin file. You can select multiple sites and login to the sites automatically.

QuickLogin can be used to check email or any other web service which require username and password. QuickLogin is small in size so that it can be easily carried in flash drives, pen drives etc.

Features:

Using QuickLogin, you can login to multiple websites in one click.

No need to enter the username and password of sites you regularly login, QuickLogin will automatically enter your user name and password once the login page is retrieved.

QuickLogin file can be password protected, so that only the owner of a QuickLogin file can open it.

Login Accounts can be grouped so that multiple accounts can be selected in one click.

Ideal for checking more than one email regularly.

We have taken efforts to reduce the size of QuickLogin installation( less than 120 kb) so that it can be easily carried in portable drives like flash drive, pen drive etc.

Internet links and favorites from Internet Explorer can be dragged into QuickLogin, making it possible to use it as a Bookmark manager.

Option for displaying the last login time for each site.

tags

and password you can quicklogin file one click username and easily carried file can accounts can quicklogin you password protected using quicklogin can login the username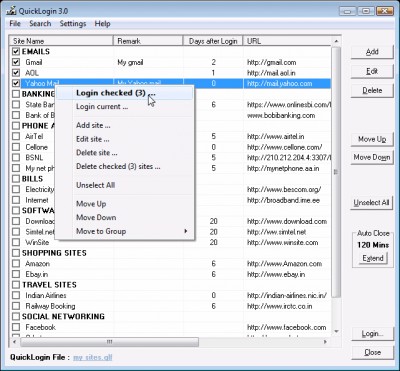 Download QuickLogin 3.0
Purchase:

Buy QuickLogin 3.0
Similar software

QuickLogin 3.0
Shafeek Mohammed

Using QuickLogin you can login to one or more websites in one click.
LoginHelper 3.1
ZqWare

LoginHelper is a good tool that helps you to save and manage your internet login accounts.

AMUST 1-Login 2.0
AMUST Software

Too many Internet Logins? Use AMUST 1-Login and you will be secure! Here are some key features of "AMUST 1 Login": · You remember only 1 Master Password · You have strong different passwords for all web sites you login · 1-click login.

Softmica Password Manager 1.21
Softmica

Softmica Password Manager is a brand new application for securely keeping track of all of your Internet passwords, credit cards, and any other information you'd like to keep secure.

Password Manager - USB 1.0
Saltriver Infosystems

Password Manager USB is a useful tool that keeps track of all your web account passwords on a USB drive.

Clickbank Accounts Monitor 1.2
Boocu.com

Open Internet Explorer, input http://www.

eSecurityNet 2.0
ProSolve Data Solutions

eSecurityNet is a powerful and user friendly software for storing unique login ID's and passwords for web sites and other applications.

Login King 2007 Build 3034
SecureWORK Inc

Login King Password Manager is the web's newest and slickest password manager.

GS Password Reminder 1
El5ateer

What is GS Password Reminder? GS Password Reminder is a small application designed to help 'online' users who use many passwords to login to different sites which require authorisation and thus, they 'as human beings' may lose their passwords and that may risk losing important accounts.

Dekart Password Carrier 2.02
Dekart

Dekart Password Carrier is a secure web form filler and password management application that provides one-click login to web sites from USB drives.