Password Fortress 1.01

Password Fortress is a secure password and private information management tool.

Developer:
Dunning Software
software by Dunning Software →
Price:
19.00 buy →
License:
Shareware
File size:
0K
Language:
OS:
Windows Vista

(?)

Rating:

0

/5 (0 votes)
Password Fortress is a secure password and private information management tool. You never have to worry about forgetting passwords or losing registration keys again.

Password Fortress will manage all your private information in a single application.

Your sensitive information is protected with strong 256-bit Rijndael encryption and can only be accessed using your secret password.

Password Fortress can be configured to store any type of information you like, such as: website and login passwords, software registration keys, credit card numbers, personal identification numbers, and even contact information. You decide what fields you want for each information group.
tags

password fortress information you private information registration keys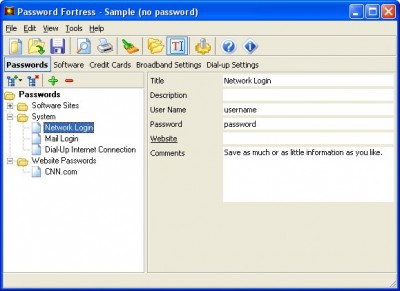 Download Password Fortress 1.01

Download Password Fortress 1.01

Purchase:

Buy Password Fortress 1.01
Similar software

Password Fortress 1.01
Dunning Software

Password Fortress is a secure password and private information management tool.

Password Safe 3.0
Password Safe Company Ltd

Password Safe keeps your passwords and data secure with 256-bit encryption.

Crypton 1.0
Tanon Technologies

Crypton is a useful and secure way to store and to manage your private information.

Yamicsoft Password Storage 1.0.0
Yamicsoft

Yamicsoft Password Storage will help you to to store secret and sensitive information on your PC.

Key Folder 1.22
Mag2 Software

Key Folder is a secure password management software that helps you organize and store your passwords and other sensitive information you do not want other people to get access to.

Password Director 3.2.2206
LastBit Software

Password Director provides a safe and secure way to keep all your passwords and sensitive records (such as system logins, credit card information, PINs, private phone numbers and other sensitive records) in the single well-protected password database.

Secure Notes 3.1
SoftX.org

Secure Notes - A simple Personal Information Manager (PIM) that allows you to store your sensitive private information (ideas, passwords, credit card numbers, website logins, etc.

SuperSecret 2.0
MadLogic

SuperSecret will offer secure storage for all of your logins and passwords so that you only have one password to remember from now on.

EldoS KeyLord 5.0 build 141
EldoS

EldoS KeyLord enables you arrange confidential information (passwords, account numbers, software registration keys etc.

Secure Password Store 0.81
L.M. Photonics Ltd

Secure Password Store is a secure Password database manager that stores all passwords in a safe database.