Password Organizer 2.1

In today's world, there are new user names and passwords needed at every turn.

Developer:
Markosoft Inc
software by Markosoft Inc →
Price:
20.00 buy →
License:
Shareware
File size:
0K
Language:
OS:
Windows Vista

(?)

Rating:

0

/5 (0 votes)
In today's world, there are new user names and passwords needed at every turn.

Web pages, email accounts, voice mail accounts, and database logins are just a few of the things that we access daily that require login information.

And, there are other common things such as software serial numbers and computer IP addresses that it would be great to be able to easily store and recall.

Unfortunately, a person can only remember so many logins and eventually it becomes virtually impossible to keep up with them all. That's where the Markosoft Password Organizer comes in. The Password Organizer makes it possible for you to reduce the number of logins and account numbers that you must keep up with to just a single user name and password combination.

With the Password Organizer you can save all of your user names and passwords as searchable database records that can be recalled by performing a simple query. And, there are several other useful fields included such as the contact, phone number, URL, and comments fields, which can be used for including more detailed information. For example, by completing the URL field you can hyperlink directly to a website and by using the comments field you can add unlimited notes to any record.

By adding your own user names and passwords for logging into the application, you can control the level of security necessary for accessing the Password Organizer. If you feel your information is on a secure PC, the auto-logon feature can be used and no password will be required to log in.
tags

you can password organizer the password there are and passwords user names names and field you and there logins and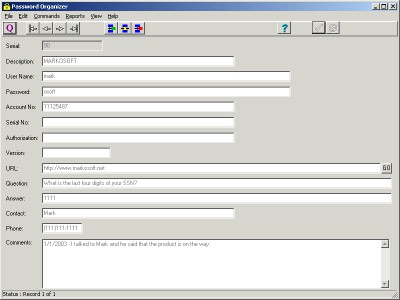 Download Password Organizer 2.1

Download Password Organizer 2.1

Purchase:

Buy Password Organizer 2.1
Similar software

Password Organizer 2.1
Markosoft Inc

In today's world, there are new user names and passwords needed at every turn.

Password Gorilla 1.4
Frank Pilhofer

Password Gorilla is an application that helps you manage your logins and passwords.

Password Inventory 1.1.0.1
Hobomail

Password Inventory allows you to save all your User Names & Passwords in a safe encrypted location.

Secure Password Manager 2.2.3.1001
securekit.com

Secure Password Manager is a desktop utility that spares you the trouble of filling in your logins, passwords, and other personal data manually.

InfoSafe Plus 6.0.2
WakefieldSoft, LLC

InfoSafe is a complete secure information management application for Palm OS handhelds, Pocket PC or Windows Mobile handhelds, and Windows PCs! Keep track and organize usernames, passwords, website logins, ID numbers, serial numbers, software codes, insurance info, bank accounts, credit cards, calling cards and much more.

Anetto Password Saver 3.1
Anetto Software

Anetto Password Saver is personal password manager that allows you to store all your passwords, logins and IDs neatly and securely on your computer.

1-abc.net Password Organizer 1.12
1-abc.net

In these days, everyone has many different passwords, to login to a messenger or an e-mail account, security codes for online banking, PINs for his telephone and so on.

Password Director 3.2.2206
LastBit Software

Password Director provides a safe and secure way to keep all your passwords and sensitive records (such as system logins, credit card information, PINs, private phone numbers and other sensitive records) in the single well-protected password database.

Outlook Express Password Recovery Master 1.2
Rixler Software

Outlook Express Password Recovery Master is a software that displays server names, user logins and passwords for all the e-mail and newsgroups accounts stored by Outlook Express as well as identity passwords.

Softinabox Password Safe 1.3.0 Build 39
Softinabox

Softinabox Password Safe is a software utility that will let you store and manage your most frequently used accounts (logins and passwords) information.