Replay 2.2

Listen to over 6000 online radio stations and save the songs as MP3-Files to your harddisk.

Developer:
Intermediaware
software by Intermediaware →
Price:
19.00 buy →
License:
Shareware
File size:
0K
Language:
OS:
Windows Vista

(?)

Rating:

0

/5 (0 votes)
Listen to over 6000 online radio stations and save the songs as MP3-Files to your harddisk.

Just enter some keywords like your favorite genre or music artist and REPLAY will search the web for radiostations that could be interessting for you. One more click and you listen to the station and you can save the songs as MP3-Files.

Replay is a software that helps you to listen radio stations and save songs as MP3 file.

REPLAY supports WINAMP Visualization Plugins, so you can watch stunning graphical effects while your listening music. These plugins are free and you can download hundreds of them at www.winamp.com.


Limitations
The free shareware version offers ALL functions of the complete software but every 10 minutes a message appears you have to click away.

tags

and you you can mp3 files the songs save the stations and and save radio stations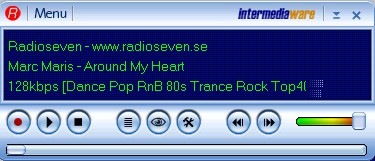 Download Replay 2.2
Purchase:

Buy Replay 2.2
Similar software

Replay 2.2
Intermediaware

Listen to over 6000 online radio stations and save the songs as MP3-Files to your harddisk.

Replay Music 2.51
Applian Technologies Inc.

Wouldn't it be great if you could make MP3s from online radio stations, MySpace, Music Videos, Digital Music Services, or anywhere else, automatically? With the artist, album, song and genre placed into the file for you? You can with Replay Music! Replay Music is a unique streaming music recorder that allows you to capture MP3 files from any streaming source.

AudioSpin Media Recorder 1.09.041
Ellipsa Technologies

AudioSpin is a powerful streaming audio recorder, with access to more than 11,000 Internet radio stations.

PC Boom Radio 1.0
Valentine Enterprises

With the help of PC Boom Radio you can listen to radio stations live on your PC.

AudioStreamer 2.6.240
R.M. de Boer Software

AudioStreamer is a web radio recorder and receiver tool which will enable you to enjoy the thousands of radio stations available on the Internet.

Skado 1.0.6.103
BlueCielo

Skado allows you to record ANYTHING that your PC can play - instantly, painlessly, and as easily as making toast! You can Pause streaming audio, then listen at your convenience, all while keeping pace with the live broadcast - Skip commercials and Replay your favorite songs.

RadioLiner 1.0
Online Technologies

With RadioLiner application you can get instant access to a huge music archive.

RippedRadio 2.01
RippedRadio.com

RippedRadio is an application that allows you to connect to various SHOUTcast compatible servers/broadcasters and save the streaming audio to one or more MP3's.

StationRipper 2.73
Ratajik Software

StationRipper will allow you to easily record Shoutcast Internet radio and TV stations.

FreeWebStream 1.133
PharaohsMedia

Watch hundreds of WEB TV channels and listen to thousands of Radio stations worldwide for FREE! Free WebStream is a new award winning software application (Freeware) for Windows Now you can watch hundreds of LIVE worldwide TV and Radio stations on your PC, free of charge.