psSendMail 1.1

psSendMail is a Windows DLL that provides the ability to send e-mail messages.

Developer:
Prestwood Software
software by Prestwood Software →
Price:
29.00 buy →
License:
Demo
File size:
0K
Language:
OS:
Windows Vista

(?)

Rating:

0

/5 (0 votes)
psSendMail is a Windows DLL that provides the ability to send e-mail messages. The purpose of this DLL is to make e-mail capability possible for those development environments that are capable of communicating with a DLL but cannot send e-mail directly.

There are two interfaces to the DLL. The first interface, or Standard Interface, does not limit the length of the strings passed into each of the functions. This allows the calling program to add as many addresses as desired in the To, CC, and BCC fields.

It also allows for unlimited length in the subject and the body of the e-mail. The downside, however, to this interface is that the calling program must make a call to each step in the process and must utilize PChars (Pointer to array of character, null terminated).

The second interface, or Quick Send Interface, is a wrapper function that internal makes a call to each of the appropriate functions from the first interface.

The downside to this interface is that you cannot supply CC or BCC addresses and the To, Subject, and Message Body are each limited to 255 characters, but they are passed as standard strings.
tags

and the the downside this interface subject and calling program first interface the calling the first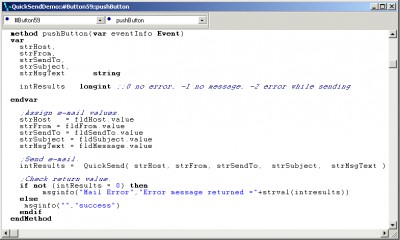 Download psSendMail 1.1
Purchase:

Buy psSendMail 1.1
Similar software

psSendMail 1.1
Prestwood Software

psSendMail is a Windows DLL that provides the ability to send e-mail messages.

Intellipool SMS Gateway 1.0 beta
Intellipool AB

The user that wishes to send an SMS will compose a new message in any mail client.

E-Mass XP 5.31
KillerSoftware LLC

E-Mass XP is an easy-to-use mass E-Mail program for businesses or software authors that need to send great numbers of E-Mails simultaneously.

SMTPit 4.0.5
Comm-Unity Networking Systems

SMTPit is a program that has a very simple, but very important task: send email.

Nico's Mailer 1.14
Nico Cuppen Software

Nico's Mailer, for sending e-mail messages to large numbers of recipients.

MMEmail 1.0.3
Comm-Unity Networking Systems

MMEmail offers you a user-friendly send email plug-in for FileMaker Pro 7 and later versions.

Mail Direct 2.6
OCloud Software

Mail Direct is a program that will allow you bypass your ISP's mail server and use your computer to send e-mails directly to recipients.
E-Card DIY 5.95 Christmas
Hesee Internet Co.,Ltd.

E-Card DIY enables you to make and send music greeting cards easily and quickly using a guided operations graphical interface.

FastTrackMail 8.60
FastTrackMail Software

FastTrack Mail offers a new, simple and very convenient interface for processing e-mail and it's a powerful email management tool with features to increase your productivity and enhance your communications.

Quick 'n Easy Mail Server 3.2.5
Pablo Software Solutions

Setting up your own mail server never has been easier! Quick 'n Easy Mail Server is a complete solution for users who what to run their own mini mail server.