PiXPO 3.0

PiXPO is able to change the way you think about sharing images.

Developer:
How2Share Technologies
software by How2Share Technologies →
Price:
0.00
License:
Shareware
File size:
0K
Language:
OS:
Windows Vista

(?)

Rating:

0

/5 (0 votes)
PiXPO is able to change the way you think about sharing images.

Photo Album Creation

PiXPO's photo album software was designed specifically to make managing and sharing albums fast and easy. With one click PiXPO automatically finds and organizes all of your pictures into albums using the PiXPO instant album creator. Managing your digital photo storage has never been easier.

Community Building

PiXPO is p2p software that is designed to bring people together through picture sharing. You can invite people to see your pictures or you can ask permission to see their pictures. PiXPO's photo album software was designed to make picture sharing easier than email and 10x faster.

Picture Sharing

Picture sharing using PiXPO is easier than uploading to a website and 10x faster than email. PiXPO uses revolutionary p2p sharing technology to make image sharing instantaneous! No more waiting for uploads or downloads.

Free Photo Hosting

Sharing photos online has never been faster or easier than with PiXPO. PiXPO provides free photo hosting and puts the control in your hands. You decide who should see your photo albums, public or private. It is up to you.

PiXPO is Safe

Inviting friends, family and colleagues to see your private pictures is easy and safe using PiXPO. Or if you want to show off your best pictures to a global audience then simply create a public album. PiXPO makes publishing your pictures simple and safe.

Share with Friends and Family

PiXPO is the ideal photo album software whether you are a beginner or a professional. Share your private photo albums with your friends, family and colleagues and your public photo albums with the world!

Picture Searching

Using PiXPO search you can browse public photo albums from around the world. PiXPO is the one place for everyone who is searching for or sharing photos online. Whether you are looking for pictures of a special event, a destination or a favourite movie star, PiXPO is the place to see the pictures for free
tags

picture sharing photo album photo albums you can easier than see your using pixpo album software your pictures your private and colleagues family and friends family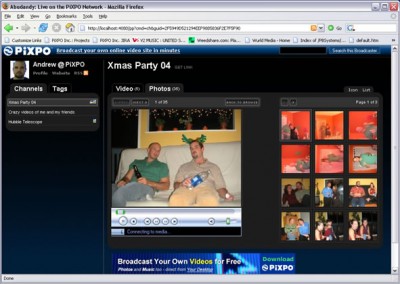 Download PiXPO 3.0
Similar software

PiXPO 3.0
How2Share Technologies

PiXPO is able to change the way you think about sharing images.

PixVillage Online Photo Sharing Software 2.0.2482
PixVillage

PixVillage is a free program that will help you share photos with your friends and family without limitations.

WWW Photo Album 1.16
LionMax Software

WWW Photo Album can help you easily create photo albums.

Web Album Maker 3.0.0
ANVSOFT INC

Web Album Maker is a web photo album creator that helps you create online photo slideshow from your digital photos using unique and highly professional Flash or HTML theme templates.
Qurio Home Photo Center 1.4
FlashPoint Technology, Inc.

Get the fastest photo sharing on the Internet! Qurio lets you share digital photos instantly from the control of your own PC.

Iris Virtual Photo Album 1.2.2
.NET Software Lab

Iris Virtual Photo Album is a software application that allows the user to make and view virtual photo albums of digital photographs and comments on them.

Photo Album 2.0
Show Your Photos

Photo Album software is for people who has photos and images on their computers and networks.

Photo Album Online 5.0.50702
Newera Software Technology Inc.

Photo Album Online is a powerful and user-friendly online photo management tool.

HTML generator 1.0
Advance Utility

Code generator html picture , generator html layout , code generator html image , photo album creator , online photo album creator , album creator download free photo free photo album creator.

PhotoHost 1.1
Bizon Software

PhotoHost is an application that allows you to view digital pictures, to organize them in albums and perform picture slide show.