PictureRelate 2.6.3

PictureRelate compares pictures by similarity.

Developer:
Dr. Axel Walthelm
software by Dr. Axel Walthelm →
Price:
0.00
License:
Freeware
File size:
0K
Language:
OS:
Windows Vista

(?)

Rating:

0

/5 (0 votes)
PictureRelate compares pictures by similarity. Of course computers can't understand what's in a picture. Pattern recognition and image analysis has tried for many decades and has failed, so far. But there are some basic image properties that can be analyzed by a computer. PictureRelate uses a set of such features to classify images. These features were designed to mimic the human eye, i.e. they use what neurologists like to call "pop-out" features.

The human brain uses pop-out features to find interesting visual elements fast. So a major benefit of using this technique is: it is fast! Using a large number of such features and combining them in a weighted way often gives surprisingly good results. Therefore I decided to publish my experimental program as a technology demonstrator. Try it!

With a bit of experience you can browse your pictures by similarity by choose a picture close to what you are looking for, adjusting feature weights to fit your criterias, select a more similar picture, and repeat this process.

As an additional benefit you can search for duplicate pictures, which have a different image format, or different size, or even for duplicates which have different text stamped into the image.

For ease of use PictureRelate supports browsing, viewing, renaming, deleting, etc. You can copy and paste and drag and drop images from PictureRelate to other applications or to the desktop and from other applications and the explorer into PictureRelate. Configuring custom tools to manipulate images in a "Open with" context menu is supported.

PictureRelate reads all major picture formats like JPG, BMP, PNG and TIFF. Any other picture format can be easily imported once you did install a filter command. Examples for using IrfanView and XnViews NConvert are supplied.

PictureRelate is specifically designed to work with a large number of pictures. 50.000 and more pictures are still searchable easily and quickly on a modern PC, once the database is built.

Features:

Browse pictures from different directories and drives in a single list

View, Rename, Delete, Copy&Paste, Drag&Drop, switch to Explorer

Can handle large lists with 50.000 pictures and more

Image formats: JPG, BMP, PNG, TIFF, PPM, PGM, PBM, RAS

Reads any other format via import filter command

tags

you can jpg bmp bmp png any other and more filter command other applications which have the human pop out out features large number such features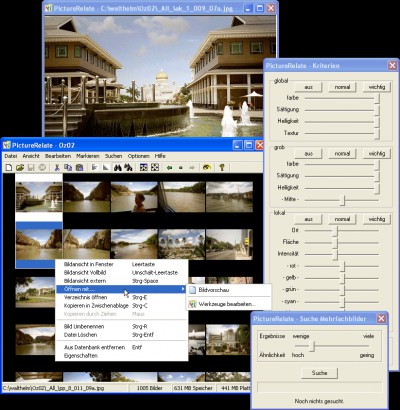 Download PictureRelate 2.6.3
Similar software

PictureRelate 2.6.3
Dr. Axel Walthelm

PictureRelate compares pictures by similarity.

Hero Photo Show 2.5
Century Herosoft Computer Technology Co.,Ltd

Hero Photo Show is an image editor, image viewer, photo converter and a graphic organizer software.

PicturePlus for ACT! 8.5
ActPresentation.com

When ACT!2005 was released it represented a new way for handling pictures that previous versions of ACT were not capable of doing.

AD Picture Viewer 3.9.1
Abroad Design

AD Picture Viewer is a small, but fast graphic viewer with slide show mode and easy-to-use file management support.

Picture To Go 1.5.6
Screaming Bee LLC

In a matter of a few clicks, Picture To Go will help you to find pictures on your computer, view them in a user-friendly window, and conveniently share them with friends and family.

Digital Image Viewer 1.1
Specialty Software

Digital Image Viewer is a very useful image utility that allows you to edit , manage and view images.

SortPics 2.9
SB-Software

SortPics is a useful image sorter and duplicate finder utility that can sort large collections of images into multiple categories.

Panorado 4.0
Simple Software

Panorado is a simple, yet comfortable image viewer which has been designed specially for very large pictures and panoramic images Panorado supports 360-degree viewing in flat and spherical projection mode, an optional Explorer-style navigation bar, thumbnail viewing, full screen mode, slide shows, printing, and a tool for burning picture disks.

FlyingSpace Hecate 2.0
FlyingSpace

FlyingSpace Hecate is a powerful batch picture process system which can convert, modify, rename, resize and print the picture in batch or create exe file, create PDF file from a batch of picture.

Picture Merge Genius 2.8
Easytools Inc

Picture Merge Genius is a simple and easy-to-use program that gives you the possibility to merge your photos, images and pictures.