OroMailCenter 2.19

E-mail management and tracking software.

Developer:
OroLogic Inc
software by OroLogic Inc →
Price:
950.00 buy →
License:
Trial
File size:
0K
Language:
OS:
Windows XP/Vista

(?)

Rating:

0

/5 (0 votes)
E-mail management and tracking software.

OroMailCenter allows you to keep in a unique database all e-mails sent or received by a department or a workgroup of your organization.

This allows your employees (agents) to simply and efficiently track all requests received by e-mail from your customers.

OroMailCenter is a tool that allows you manage emails.

The main characteristic of OroMailCenter is that all agents share the same database so they have access (according to their security level) to all sent and received e-mails in the message center.

The time where a customer received 2 different answers for the same e-mail or worse, no answer at all is now over. By using OroMailCenter you will assure a quality service to all your customers.


Requirements
Microsoft Internet Explorer 5.0 or Higher


Limitations
45 days trial

tags

the same your customers allows you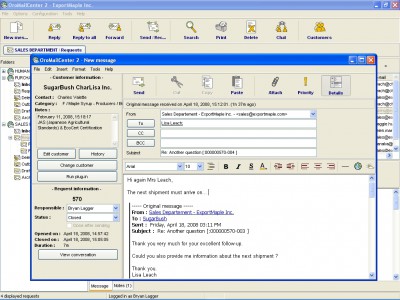 Download OroMailCenter 2.19
Purchase:

Buy OroMailCenter 2.19
Similar software

OroMailCenter 2.19
OroLogic Inc

E-mail management and tracking software.

ProductiveMail 1.5
ProductiveMail Technologies

ProductiveMail is a useful program that lets you know in real time when your e-mails are received and read.

PC PhoneHome 3.3.2
Brigadoon Software, Inc.

PC PhoneHome is the pre-eminent computer tracking and theft recovery software in the world.

E-mail Follow-Up 1.12
MAPILab Ltd

E-mail Follow-Up allows (and reminds you!) to send follow-up e-mail messages if a reply has not been received within a specified time-frame.

LinkWS Newsletter 2.1 Turbo
LinkWS

With Newsletter you have a 7 in 1 tool to send HTML formated newsletters or any kind of e-mail to your subscribers, customers or other e-mail lists you have.

AvirMail 1.70.0500
Avir software

AvirMail helps you preview all incoming E-Mails while they are still on the Server and before you download to your PC.

EmailUnlimited 6.1
4OfficeAutomation

Tired of ISP limitations? EmailUnlimited allows you to easily send HTML e-mails to all your customers right from your desktop computer.

Document Centre 1.0.3
Berg Software

Document Centre is a Windows project/customers database which gathers project data, documents belonging to a project and emails that has been received in Microsoft Outlook into one unit.

AOL Mail and AIM Gadget 1.0.0.39 Beta 4
AOL LLC.

The AOL Mail and AIM Gadget beta helps keep you up-to-date by displaying your most recently received AOL and AIM instant messages and emails.

LongClasp Email Router 1.3
LongClasp Software

LongClasp Email Router is a powerful and affordable email tracking and routing software solution for businesses and organizations of any size.