MultiMail 1.2

The real pane of having multiple mailboxes is the need for their constant checking.

Developer:
CaldSoft
software by CaldSoft →
Price:
5.00 buy →
License:
Trial
File size:
0K
Language:
OS:
Windows XP/Vista

(?)

Rating:

0

/5 (0 votes)
The real pane of having multiple mailboxes is the need for their constant checking. Don't you just hate having to do this many times a day? Opening your web browser, remembering and enter passwords.

Well MultiMail application will make this process much faster. You just simply add the details of your hotmail accounts to this program and you will never have to type your email address and password again.

When you want to open your mailbox simply select the address and MultiMail will launch a new webpage entering your username and password automatically, taking you directly to your mailbox.

If you're worried about others launching the program and having access to your email accounts then don't. MultiMail has an optional password entry system, so you can protect your account details. Simplest to use, high quality, a really effective time saving tool!

NOTE:
Please note that MultiMail will only work for Hotmail accounts, we will be releasing a new version soon with support for other email providers


Limitations
30 days evaluation period

tags

and password your mailbox multimail will address and your email hotmail accounts program and you just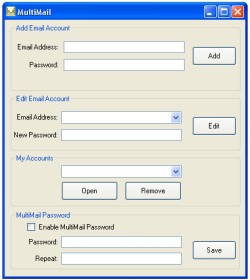 Download MultiMail 1.2
Purchase:

Buy MultiMail 1.2
Similar software

MultiMail 1.2
CaldSoft

The real pane of having multiple mailboxes is the need for their constant checking.

Multi-Mail Notifier 2.0.001.02
GlobalMedia, Inc.

Multi-Mail Notifier will alert of new e-mail arriving at multiple e-mail accounts.

Solway's Multimail 1.3
Kevin Solway

Solway's Multimail is an application that helps you send an email message to multiple individuals, so that they each receive a personal message (ie, not CC'd).

Email Arrival Notifier 10.0
PC-Safety

Email Arrival Notifier notifies of the new e-mail messages arriving from multiple e-mail accounts.

Webmail Retriever for Hotmail 7.3.0
Apocgraphy

Webmail Retriever for Hotmail - send and receive mail through any number of hotmail accounts using a real email program! With Webmail Retriever you can access your Hotmail account using any email program such as Outlook, Outlook Express, Netscape Messenger, Eudora, or TheBat.

POP Peeper 3.0.1
Mortal Universe Software Enter

POP Peeper is an email notifier that runs in your Windows task bar and alerts you when you have new email on any of your POP3, Hotmail, MSN, Yahoo, Mail.

Mail Forward 3.1
System Support Products Inc

Mail Forward will allow you to forward mail from Gmail, AOL, MSN, Hotmail and Yahoo web mail accounts to any mail address.

LocatePC 1.4.9
Sashazur LLC

LocatePC will send a secret e-mail message from your computer that may help you recover it if gets stolen.

Mail Password 4.0.282
LastBit Software

Mail Password is a universal password recovery tool for POP3 email accounts.

Mail PassView 1.86
Nir Sofer

The Mail PassView utility displays the details of email accounts of the following email applications: Mail PassView is a small password-recovery program which shows the passwords and other account details for the following email client software: · Outlook Express · Microsoft Outlook 2 (POP3 and SMTP Accounts only) · Microsoft Outlook 2002/2003 (POP3, IMAP, HTTP and SMTP Accounts) · IncrediMail · Eudora · Netscape 6.