MP3 Torpedo 5.7.4

MP3 Torpedo is a fork of the very popular LimeWire Gnutella client.

Developer:
mp3torpedo
software by mp3torpedo →
Price:
0.00
License:
Freeware
File size:
0K
Language:
OS:
Windows Vista

(?)

Rating:

0

/5 (0 votes)
MP3 Torpedo is a fork of the very popular LimeWire Gnutella client. The purpose of MP3 Torpedo is to keep and maintain the freedoms that LimeWire may be forced to withdraw.

LimeWire has been considering an alternative path to keep them out of any legal situations they could be forced into. From what we understand, LimeWire intends to implement a DRM filtering technology into their client. If LimeWire ever decides to implement this DRM technology, we will be prepared to remove it from our code and distribute the client under our own branding.

However, we will continue supporting the LimeWire client development. MP3 Torpedo, although very much like LimeWire, will never offer a paid version or a subscription service for the download or use of the MP3 Torpedo application.


MP3 Torpedo features
Most Powerful Version FREE: More Search Results, Faster Downloads, TURBO Acceleration, Better Download Success


Smart User Interface: Easy to Install & Use, Easy Searches P2P Networks, Easy Sharing


Search & Enjoy: Free Music Downloads, Free Movies & Videos, Free Games & Software, Free Pictures & Documents

Improved Resources: optimizes computer's performance by lowering CPU usage.


Faster Transfers: enhanced and more reliable downloads using new methods and technologies.


Faster Connections - new host support improved for multiple P2P connections on the networks.

tags

torpedo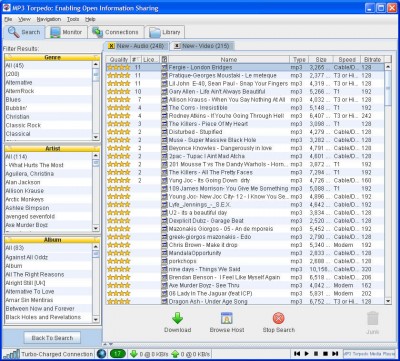 Download MP3 Torpedo 5.7.4
Similar software

MP3 Torpedo 5.7.4
mp3torpedo

MP3 Torpedo is a fork of the very popular LimeWire Gnutella client.

LimeWire Acceleration Patch 7.0.0
Download Boosters

LimeWire Acceleration Patch is a high-end module for LimeWire file sharing application, developed to resolve problems like: slow downloads and disconnections, traffic congestion, improving download speed and reliability, doing so by several methods to achieve 200% to 400% faster downloads, according to our tests, user and website reviews.

FrostWire 4.13.1
FrostWire

FrostWire is a free Gnutella client based on LimeWire distributed under terms of the GPL .

KazaaLimewire Companion 2.26
01smith

Kazaa and LimeWire Companion is a free and useful lyrics finder and download accelerator for Kazaa and LimeWire.

MP3 Rocket 4.9.12
MP3 Rocket Inc

MP3 Rocket is an open-source project taken from the LimeWire core, only made better.

LimeWire Manager 1.8
Multimedia Files NOW

LimeWire Manager is a useful , free and powerful program for LimeWire users.

Twister MP3 4.2
Twister MP3

Twister MP3 is the ideal alternative solution to LimeWire, Ares Galaxy, BearShare, and other P2P programs.

Cabos 0.7.1
Heavy baby

Cabos is Gnutella file sharing program based on LimeWire and Acquisition.

Credence 1.4
Kevin Walsh

Credence is a useful and free tool for combating spam and pollution in filesharing networks.

Mp3search 1.0
Mp3 software

Mp3 search is an easy to use and fast program to find and download MP3 files on the Internet.