Manolito 1.18

Manolito is a p2p file sharing software application.

Developer:
MP2P Technologies S.A.
software by MP2P Technologies S.A. →
Price:
0.00
License:
Freeware
File size:
0K
Language:
OS:
Windows XP/Vista

(?)

Rating:

0

/5 (0 votes)
Manolito is a p2p file sharing software application.

Everybody knows about Gnutella's problems: most users do not share any files, modem users flood the traffic, the protocol contains no metadata concepts and there isn't enough scalability

MP2P is based on top of the UDP transpor protocol. There are two very important reasons that make UDP better than TCP/IP:

Firstly, TCP/IP is not anonymous, which means that file sharing can be tracked and subsequently shut down (this does not happen with UDP).
Secondly, it's easy to test that UDP is faster than TCP/IP. You can try it yourself

MP2P has many advantages over the others: it's natural scalability makes adding new features an easy task, and it improves the functionality with an insured compatibility, over unlimited content and c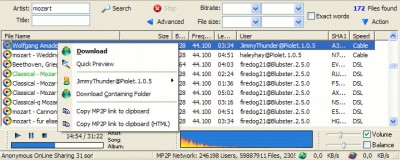 Download Manolito 1.18
Similar software

Manolito 1.18
MP2P Technologies S.A.

Manolito is a p2p file sharing software application.

NeoNapster 4 beta
NeoNapster.com

NeoNapster is a free file sharing program based on the Gnutella protocol.

Blubster Free 2.6.8
Pablo Soto

Blubster is a music-sharing connection that is quickly attracting a user community.

Easy File Sharing Web Server 7.2
EFS Software Inc.

Easy File Sharing Web Server is a Windows program that allows you to host a secure peer-to-peer and web-based file sharing system without any additional software or services.

Network File Sharing and Disk Sharing 6.0
Javvin Company

DiskShare is a useful and reliable enterprise Class Windows NFS Servers program that allows Windows NT/2000/2003/XP-Pro workstations and servers to perform as NFS servers, so you can share files and printers among UNIX workstations, PCs, or other NFS-based clients.

Toadnode 3.1.3
Toadnode

Toadnode is a peer-to-peer (P2P) file-sharing program that will make it easy to search for and share files with people from all over the world.

EarthLink SIPshare 0.14.9a
EarthLink, Inc.

EarthLink SIPshare is a simple, SIP-based proof-of-concept content sharing prgoram, demonstrates the viability of SIP as a protocol over which peer-to-peer (P2P) software other than the well-known video and voice cases may be implemented.

Myster PR8
Mysternetworks

Myster is a file sharing application.

Phosphor 1.2.2
Phosphor Team

Phosphor is a peer-to-peer file sharing program which can be used to search for and download files of all types as well as share your own.

Titan FTP Server 19.0.0.3670
South River Technologies

Titan FTP Server is an enterprise class server product for storing and sharing files.