KoolMoves 10.1.9

KoolMoves is an affordable Flash authoring tool that is full featured and easy to use.

Developer:
Lucky Monkey Designs
software by Lucky Monkey Designs →
Price:
49.00 buy →
License:
Demo
File size:
0K
Language:
OS:
Windows Vista

(?)

Rating:

0

/5 (0 votes)
KoolMoves is an affordable Flash authoring tool that is full featured and easy to use. It is ideal for creating a wide range of web content with high impact visuals, MP3 and WAV sound.

KoolMoves takes an approach to Flash movie creation that is in tune with the animation process, because it was designed by a professional animator. It is a mature animation package with ease of use and power as guiding principles. KoolMoves makes it easy to create a Flash movie. All you need is an idea.

As Flash has developed into the standard for animation on the web, KoolMoves has emerged as an advanced but low cost alternative to Flash.

The functionality services a broad set of web design needs:


high impact visuals with sound

animated text effects

general web sites

flash banners

multimedia slide shows

dazzling splash pages

flying logos

complex navigation systems

character animation

interactive games


KoolMoves features
Import SWFs as editable movies

51 action script based text effects

100 stylish text effects templates

343 clip art items and buttons

20 web interface templates

Transition, spin, rotate effects

4 skill levels (wizards to cartooning)

Easy to create mouse-over effects

Flash MX action scripting

Easy to use preloaders

User interface components

Bones for character animation

tags

text effects character animation flash movie impact visuals high impact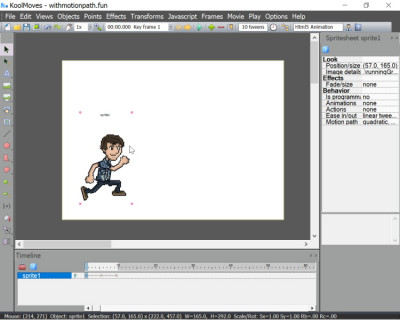 Download KoolMoves 10.1.9
Purchase:

Buy KoolMoves 10.1.9
Similar software

KoolMoves 10.1.9
Lucky Monkey Designs

KoolMoves is an affordable Flash authoring tool that is full featured and easy to use.

FlashyEffects 1.2.1
Lucky Monkey Designs LLC

FlashyEffects was developed to help you be more productive and to get the desired results in minutes.

3D Flash Animator 4.9.2
Insane Tools

3D Flash Animator will offer you everything you need to create Flash animations and games for web pages.

Flash Effect Maker 2.8326
Avimpeg.net

Flash Effect Maker is the great Flash effect tool to help web master design animated Flash intros, Flash banners, Flash ads, and any otherFlash.

MotionArtist 3.0.2
e frontier Inc.

MotionArtist 3.

Mix-FX 1.05
Trellian

Want to create Flash animations such as Flash buttons, Flash banners, Flash intros, Flash effects and Flash text effects, but don't have Macromedia Flash or don't know how to use it for complex Flash animations? Don't worry, Mix-FX comes to your rescue.

Flash LipSync 1.0
FlashPulse

Flash LipSync - sync your audio with a mouth animation for the use in flash projects.

FlasherShop 4.0
Myth Software, Inc.

FlasherShop is a quick and easy solution to create Flash animations with professionally designed Flash templates.

SWF Text 1.0
AntsSoft

SWF Text is an author tool of Flash text animation.

Flash Website Design 1.0563
Avimpeg

Flash Website Design is the Flash HTML tool to help Web master design animated Flash Web sites, intros, Flash banners, Flash ads.