KnockKnock 3.10

Anti Spam program eliminates unsolicited e-mails in your inbox.

Developer:
Sinbad Networks Communications
software by Sinbad Networks Communications →
Price:
49.00 buy →
License:
Shareware
File size:
0K
Language:
OS:
Windows Vista

(?)

Rating:

0

/5 (0 votes)
Anti Spam program eliminates unsolicited e-mails in your inbox. KnockKnock is a complete e-mail enhancement program and spam solution, and works with your current Email client. Easy to use administration features handles, multiple e-mail accounts on multiple servers. Works with virus protection software such as Norton and McAfee.

Anti Spam Intelligence stops unwelcome messages before downloading to your inbox. KnockKnock learns what's Spam from your normal activities and loves Spam; the more you get the better the Anti Spam Intelligence works.

Unique Accept Once feature. Secret words and subject filtering options included. Optional configurable courtesy notice to all new uncategorized senders, trying to send you an Email, letting them know your system has received their email and you will evaluate them.

Special preview feature allows viewing of content on server for questionable senders, and option to delete email on clogged accounts on the server. Easy total control, of all senders from accept, deny, or hold (pending) status. Change status as often as desired.

Save yourself or your employee's time and money when you no longer spend hours each day wading through unwanted emails to get the messages you want or need. Stop allowing spammers from wasting your valuable time.
tags

anti spam get the spam intelligence inbox knockknock your inbox works with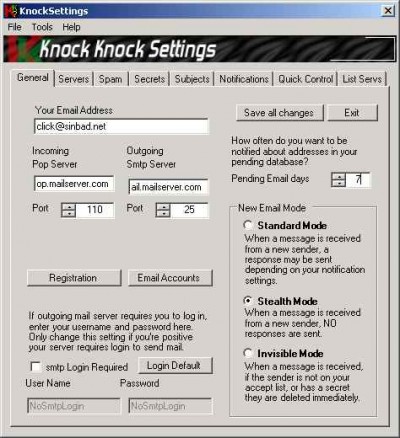 Download KnockKnock 3.10
Purchase:

Buy KnockKnock 3.10
Similar software

KnockKnock 3.10
Sinbad Networks Communications

Anti Spam program eliminates unsolicited e-mails in your inbox.

SPAM Shredder 3.1
Safe Soft Corporation

SPAM Shredder is an anti-spam email client that automatically classifies incoming emails as spam or non-spam.

All Spam Gone Spam Killer Anti Spam 2.1.13
A1Tech, Inc.

Anti spam software that blocks spam email and works as a junk spam email blocker.

DefendGate Spam Guard 3.9
DefendGate

A powerful and cost-effective email filtering tool that eliminates over 95% of all Spam e-mails before they even reach your Inbox.

Purgy 1.0
Xtreeme GmbH

A typical spam filter works by trying to guess which email is good and which is spam.

Anti-SPAM Guard 4.0
Business Solutions

Anti-SPAM Guard is a useful and one of the first product of its kind to completely protect the emails you receive and the emails you sent out (both ingoing and outgoing emails protection).

Piranha 1.0
SpamSolver.com, Inc.

Spam Piranha anti-spam program works with Outlook Express and all e-mail clients.

Mail Box Dispatcher 2.30
Alex Kaul

Mail Box Dispatcher will allow you to stop spam, viruses and other unwanted emails without downloading them.

SpamJail 2.1
ESofty Inc.

SpamJail is a software application that will keep spam out of your inbox.

Mail UnKnown Anti-Spam 1.532
CactusVision Software

Stop spam with Mail UnKnown.