iRadio 1.5

iRadio is a unique software.

Developer:
3aLabs
software by 3aLabs →
Price:
39.00 buy →
License:
Shareware
File size:
0K
Language:
OS:
Windows Vista

(?)

Rating:

0

/5 (0 votes)
iRadio is a unique software.
It gives you a new way of capturing and collecting music from radio stations over the Internet. Integrated easy search engine allows you to find favorite radio by genre or keyword, to choose bitrate and other characteristics.

You can listen and record radios at the same time. iRadio receives much more information about listening track: track parameters, name, stream name, stream type, bitrate, genre etc.

iRadio is a tool that allows you record and play radio online.

iRadio automatically saves every new track in a separate file with the corresponding file name. While listening to a track you can get it full even if you have started recording from the middle.

You can optionally select saving tracks in directories with current date and time. There are many more unique options allowing you to arrange your music and make new downloads.

There is an integrated CD recording engine that allows to create music CDs with CDA and MP3 formats. You have no difficulty in selecting and mixing tracks for recording a disk. Each track's parameters and full selected time are indicated.


iRadio features
Play and record Internet radio

Integrated search for radio stations by genre or keyword

Full track information

Separate track recording: Artist and song name in every track

Auto track caching

Several player options

Support the most popular radio stream formats

Creation of CD's with your favorite music

Easy CD mixing

CDA and MP3 format for audio CD

Retransmission of radio programs to many users

tags

you can you have cda and that allows and mp3 name stream allows you and record radio stations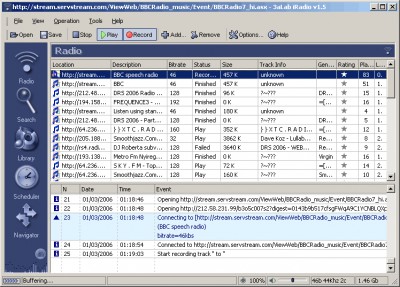 Download iRadio 1.5
Purchase:

Buy iRadio 1.5
Similar software

iRadio 1.5
3aLabs

iRadio is a unique software.

iRadio Lite 1.0
3aLab

iRadio Lite is a good way to capturing and collecting music from radio stations over the Internet.

AVS iRadio Recorder 3.8.2.5
Online Media Technologies Ltd

AVS iRadio Recorder is a nice and convenient, compact internet radio recorder application with the help of which you can record music from Internet radio stations.

AudioSpin Media Recorder 1.09.041
Ellipsa Technologies

AudioSpin is a powerful streaming audio recorder, with access to more than 11,000 Internet radio stations.

AudioStreamer 2.6.240
R.M. de Boer Software

AudioStreamer is a web radio recorder and receiver tool which will enable you to enjoy the thousands of radio stations available on the Internet.

Web Radio Professional 2.95
Promagnum Corporation

Web Radio Professional is a useful and unique program which includes high quality internet radio stations that allow users to choose their favourite tracks.

Radio2MP3 1.0
Radio2MP3

Radio2MP3 is an audio streaming recorder that lets you record music from online radio stations to your PC.

RadioLiner 1.0
Online Technologies

With RadioLiner application you can get instant access to a huge music archive.

Replay Music 2.51
Applian Technologies Inc.

Wouldn't it be great if you could make MP3s from online radio stations, MySpace, Music Videos, Digital Music Services, or anywhere else, automatically? With the artist, album, song and genre placed into the file for you? You can with Replay Music! Replay Music is a unique streaming music recorder that allows you to capture MP3 files from any streaming source.

AudioJack 2
Disc4You GmbH

AudioJack is a versatile tool to obtain your favorite music from the internet in a legal manner.