GrabJPG 2.12

GrabJPG is a software application for downloading JPG images of the internet.

Developer:
Zultrax VOF
software by Zultrax VOF →
Price:
39.00 buy →
License:
Trial
File size:
0K
Language:
OS:
Windows Vista

(?)

Rating:

0

/5 (0 votes)
GrabJPG is a software application for downloading JPG images of the internet.

All you need for finding and downloading pictures on the web within one easy solution. You don't need your web browser anymore but let GrabJPG do all the searching, clicking and browsing for you. You say what you want, GrabJPG gets it.

GrabJPG automatically searches images for you using the big search engines, presenting you in the end the result in a thumbnailed gallery. You can also get all the images from a certain website of which you know the URL or of which you found the URL with GrabJPG.

GrabJPG does all the work you normally would do yourself, searching in search engines, clicking on links or thumbnails on a page, filter out the banners and popups, and so on. You just control this process and watch the results.

The program makes sure you don't need your web browser anymore for finding pictures on the web and protects your security. GrabJPG doesn't visit websites, it only scans them, nothing gets opened, nothing gets executed, no scripts, no nothing. We miss around 1% of the pictures doing that but also avoid 100% of the risks. Nothing comes in except pictures, all first validated by GrabJPG before shown to you.


Requirements
64 MB RAM


Limitations
15 days trial

tags

all the for you search engines the url nothing gets which you browser anymore you don the web need your your web web browser for finding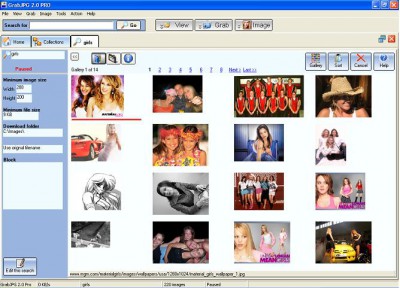 Download GrabJPG 2.12
Purchase:

Buy GrabJPG 2.12
Similar software

GrabJPG 2.12
Zultrax VOF

GrabJPG is a software application for downloading JPG images of the internet.

WebImage miner 2.40
CZY software

WebImage miner is a robot that is searching and downloading image (graphics, pictures, photos) files from websites and multi Search Engines: Yahoo, Google, AllTheWeb Webimage miner is a software can help you easily find, download, view and save the images from specail web sites or multi search engines: Yahoo, Google, AlltheWeb.

Web Pictures Downloader 1.9 SR 100
Keronsoft

Web Pictures Downloader is the solution for those who want to download images and thumbnails from websites.

Newsgroups Pictures Downloader 1.09 b6
Keronsoft

Newsgroups Pictures Downloader is a tool for downloading and presenting images from the newsgroups.

Mihov Picture Downloader 1.5
Miha Psenica

Mihov Picture Downloader is a useful and handy utility you can use for downloading all the pictures from one or several web pages.

Web Photo Search 2013
Abitom Software

There are hundreds of thousands of websites all over the Internet that include interesting or useful images.

Meta Image Search 2.0
TweakMarketing Inc.

Meta Image Search is a software for searching images in search engines by search phrases.
A Web Snatch Program 2.1
Wolfgang Software

You wont have to click on every thumbnail picture anymore! Tired of going through all the steps it takes to click, download and save every thumbnail image on the web page if you want a set of full size pictures from the gallery? Computer users rave about the time that they save using our Web Snatch software.

A Web Picture Snatch Internet Ripper 2.4
Wolfgang Software

Web Picture Snatch Internet Ripper can download and save thousands of pictures from the Internet in a very short time.

SurfPics 1.0
4ComTech

SurfPics is an image search themed web browser/search tool that delivers easy access to image search engines and image galleries.