Folio First 1.0

Folio First is a RSS Feed Reader and Podcasting Client.

Developer:
H3K Technology
software by H3K Technology →
Price:
29.00 buy →
License:
Trial
File size:
0K
Language:
OS:
Windows XP/Vista

(?)

Rating:

0

/5 (0 votes)
Folio First is a RSS Feed Reader and Podcasting Client. Has many advanced features that other readers don't, and has been specifically optimized for ease and speed of browsing headlines.

Folio First also has advanced podcasting features to automatically subscribe to and download podcasts as well as organise them or even load them onto your iPod or other device to listen to later.

Additional features of Folio First include easy wizards to subscribe to and manage your subscriptions, advanced search features, inbox to quickly and easily browse headlines, offline feed reading and much more.


Limitations
30 day trial

tags

folio first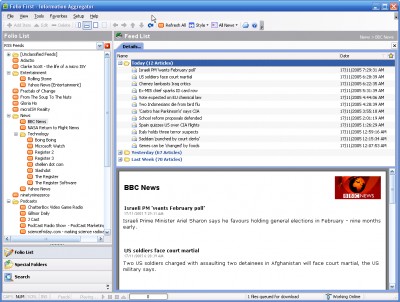 Download Folio First 1.0
Purchase:

Buy Folio First 1.0
Similar software

Folio First 1.0
H3K Technology

Folio First is a RSS Feed Reader and Podcasting Client.

NewsGator 2.6
NewsGator Technologies

NewsGator is a news aggregator that runs directly inside Microsoft Outlook.

iNewsCaster 1.0
MagneticTime

iNewsCaster acts as an information aggregator, collecting information on News, Web sites, weblogs, podcasting and any syndicated feed, and delivering the content straight to the PC desktop.

Feed Mix 4.97
ExtraLabs Software

Feed Mix is an RSS editor, which is powerful enough for RSS gurus yet refreshingly easy for RSS first timers.

Podcasting Bundle 1.2.3.0
NotePage Inc

RecordForAll and FeedForAll is a couple of programs that make it simple to record audio files, layer audio files, edit audio files and publish podcast feeds.

Crystal Report Folio 1.0
ToroSoft Software

Crystal Report Folio is the ideal way to organize and run all your Crystal Reports! Customizable tab screens will make it easy to group your reports by category, daily/weekly/monthly, or any way you like! The Crystal Report Folio wizard leads you through a step by step process of entering parameters, report destinations and other report options.

AgileRss 2.0
Elfs Software

AgileRss - desktop aggregator that is able to display any RSS, ATOM, and XML news feed It also allows you to keep up-to-date with all your favourite sources of information that support the RSS protocol.

RSS Feeds Aggregator for Eudora 1.6
Brana Bujenovic

RSS Feeds Plugin is a useful RSS feed aggregator for Qualcomm Eudora.

Advanced RSS2Email Professional 3.15.89
Xpress Software Inc

Advanced RSS2Email will let you to automatically create electronic newsletters from RSS feeds.
AggPub 1.0
GT Technologies

AggPub was designed as an application that combines many RSS related features.