En-De-Code.exe 1.0

En-De-Code.

Developer:
Thimk.Biz
software by Thimk.Biz →
Price:
10.00 buy →
License:
Shareware
File size:
0K
Language:
OS:
Windows Vista

(?)

Rating:

0

/5 (0 votes)
En-De-Code.exe can code plain text, including parts of HTML code, as decimal / unicode or hexadecimal, which can be processed by modern browsers, but which are not readable by casual viewers of the HTML code. Unlike some other code protectors, this one can reverse the process,


Limitations
180 runs / 10 runs

tags

html code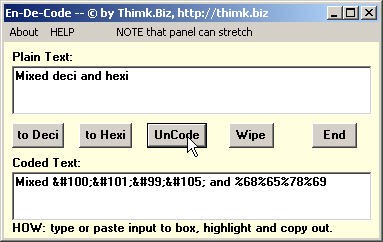 Download En-De-Code.exe 1.0
Purchase:

Buy En-De-Code.exe 1.0
Similar software

En-De-Code.exe 1.0
Thimk.Biz

En-De-Code.

0-Code HTML Converter 3.0
Hixus Software

0-Code HTML Converter is a handy software for web developers.

HTML-Code-Cut 80.103a
Acme Web Design Info

HTML-Code-Cut is a simple, useful little application to mass-replace sections of your HTML code.

HTML Guard 3.3.1
Andreas Wulf Software

HTML Guard allows you to prevent people from copying your source code.

HexToDec 1.02
myTechAid

Hex2Dec is a simple application that converts hexadecimal HTML color codes to their decimal RGB equivilents.

HTML To Text 2.0
Microblast Software

The Easiest way to convert HTML to text, simple as 1-2-3 ! HTML to Text is a program to convert HTML code to Text.

CharProbe 1.101
Dextronet

CharProbe is a useful and reliable program that allows you to easily find and automatically copy: ASCII Codes, HTML Codes, Virtual Key Codes.

Code Rip 1.0
Camtech 2000

Code Rip is a source code viewer that will extract the HTML code from your web page, including pages protected by no-right-click scripts.

Source Viewer Software 1.0
SoftSwot

Source Viewer gives you a php coded web page allowing you to display the html and php source code of files on your server directly in a browser.

HTML Code Export 1.0 beta
OverZone Software

HTML Code Export is a unique and easy to use application to quickly and easily reindent, export (10+ formats supported) and print your html documents.