EasyUploader 1.5.1

You can make money with a website and links to Easy-Share.

Developer:
Easy-Share.com
software by Easy-Share.com →
Price:
0.00
License:
Freeware
File size:
0K
Language:
OS:
Windows Vista

(?)

Rating:

0

/5 (0 votes)
You can make money with a website and links to Easy-Share.com. When someone clicks a link on your site and downloads a file from Easy-Share.com, you get revenue. We pay 1 dollar per 1000 downloads.

Our revenue sharing formula is great for owners of community based sites, for blog owners, or for forum and discussion board owners.

Encourage members of your community to use Easy-Share.com for file sharing and increase your earnings.

It doesn't matter whether you have an account with us or not, you are probably already making money from links to Easy-Share.com on your site.


EasyUploader features
Free. No adware of malware.

Multiple file upload

Restart of broken uploads

Upload history

Raw and formatted links generator

tags

easy share share com your site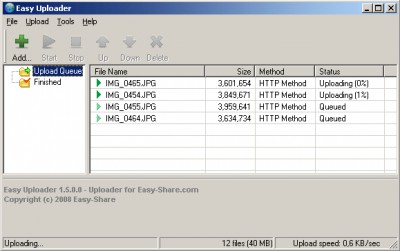 Download EasyUploader 1.5.1
Similar software

EasyUploader 1.5.1
Easy-Share.com

You can make money with a website and links to Easy-Share.

SendLink 1.9.1
Computer Knacks, Inc.

Share your files and folders by emailing tiny 'links' to the people you want to share with.

Inbound Links Monitor 3.1
Inbound Links Monitor

Inbound Links Monitor is a very easy-to-use tool for both website owners and webmasters.

Easy File Sharing Web Server 7.2
EFS Software Inc.

Easy File Sharing Web Server is a Windows program that allows you to host a secure peer-to-peer and web-based file sharing system without any additional software or services.

SiteLinkChecker 1.0
Nsasoft llc

Site Link Checker checks Web sites for broken links.

Weblink Checker 1.0
AX Gold Software Limited

Weblink Checker is a very simple utility which instantly checks your web site on your PC before you upload it to your web host.

ShareControl Classic 1.11
Proletary Software

ShareControl is a companying P2P file sharing tool to move all downloaded files into another folder immediately after a file download is completed, this helps to prevent other people getting these files (upload) before you check its contents.

Nakido 0.94
Nakido.com

Nakido plugin allows you to share your files to anyone over the internet.

WWW File Share Pro 7.0
LionMax Software

WWW File Share Pro is a small HTTP server that can help you share files with your friends.

AllPeers 0.55.1 Beta
AllPeers

AllPeers is now a Firefox extension that will help you share anything you like! Share webpages, videos, photos, music or any other files with family and friends.