EasyChat 3.0.0

EasyChat is a multi-user network messaging chat application.

Developer:
Sophtware Kode Werks
software by Sophtware Kode Werks →
Price:
15.00 buy →
License:
Shareware
File size:
0K
Language:
OS:
Windows Vista

(?)

Rating:

0

/5 (0 votes)
EasyChat is a multi-user network messaging chat application.

It allows many users to chat across a network, WITHOUT the need of an Internet connection.

EasyChat runs in two modes: server and client. Each running server allows many users (clients) to connect for messaging/chating.


EasyChat features
Chat across your network at work. Employees can communicate real-time, between many users, without email.

Chat from office to shop floors. Keep office employees in touch with shop employees to help reduce errors and comunication problems.

Chat across your home network. EasyChat users can communicate between PC's at home for fun.

tags

many users chat across can communicate across your allows many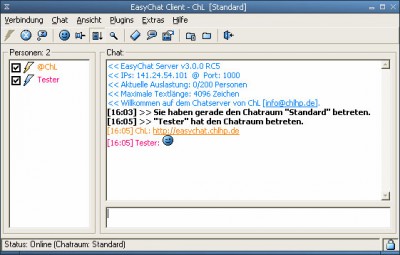 Download EasyChat 3.0.0
Purchase:

Buy EasyChat 3.0.0
Similar software

EasyChat 3.0.0
Sophtware Kode Werks

EasyChat is a multi-user network messaging chat application.

LNChat - Local Network Chat 1.0
David Aguirre Grazio

LNChat - Local Network Chat is the best solution for the office and home environment communications.

LanToucher Network Chat 1.2.11
Vital Sound Laboratory

LanToucher Network Chat is small and easy-to-use chat software for your small office or home LAN (Local Area Network).

RDSGroup Animated chat 1.0.5
Ant

RDSGroup Animated chat is a useful and real time chat utility for small office, home local networks or club.

LAN Chat Enterprise 2.1
KGY Soft

The program LAN Chat E n t e r p r i s e is made to support exchanging messages in the regime of real time in a small office, in an educational institution, in general in any office with local networks.

Xscape Network Chat 1.0
TrajectoryLabs.com

Xscape Network Chat is a local network instant messaging program for Windows.

Fomine LAN Chat 1.2
Fomine Software

Fomine LAN Chat is tiny and easy-to-use instant messaging software.

PopMessenger 1.62.3
LeadMind Development

PopMessenger is a messaging system designed for office or home networks.

Office Organizer 5.0
TrialBest ltd

Office Organizer is for Internet e-mail, local network (internal network mail, organizer, chat), and for creation and organize of the own client database.

x Chat 3.0 build 060815
xStudio.ca

x Chat is a private one-on-one intranet chat client in real time.