DNKA 0.49

DNKA - search application for remote PC.

Developer:
DNKA Software
software by DNKA Software →
Price:
0.00
License:
Freeware
File size:
0K
Language:
OS:
Windows Vista

(?)

Rating:

0

/5 (0 votes)
DNKA - search application for remote PC.

It acts as a web server (search server) by interacting as a layer between Google Desktop Search (GDS) and user. And allow other users to search, view and download your files, emails, chats and web history.


DNKA features
Simple to access the search (GDS) from another desktop;

Allow/Deny access from external hosts to the search server.

By default (as installed) access is only granted to the local machine;

Allow to change port number for web server;

Serve the files from a local machine;

Log access to the search server;

Web interface for search server options;

Password protected access to search server options;

Runs automatically when a GDS start up.


Limitations
Free for private/personal use.

tags

search server the search server options local machine search gds web server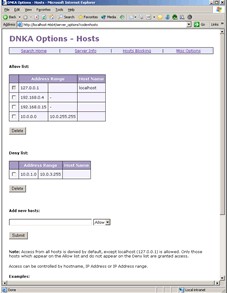 Download DNKA 0.49
Similar software

DNKA 0.49
DNKA Software

DNKA - search application for remote PC.

@Zebra DEMO 5.3
Aida Good Will

Powerful universal search server for search on local to networks, ftp to servers and web search site.

Search Pro Deluxe 1.02
Pro Deluxe

Search Pro Deluxe is much more powerful than Microsoft Search.

DB Query 1.3
Sergey Apollonov

This distributed client/server application offers technology of searching in databases for users, not possessing knowledge of the SQL language.

Search Engine Creator for PHP 2.1
minihttpserver

Search Engine Creator - The simplest way to create a search engine script for all PHP websites.

Google Desktop 5.1.703.13372
Google

Google Desktop will offer full text search over your email, computer files, chats, and the web pages you've viewed.

Servlet.Search 1.0
Usingit.com

Servlet.

Halftone Search for Google Desktop 1.2.8
TrieTech

Google Desktop is a free tool available for download from the Google web site.

Subject Search Server 1.1
Kryloff Technologies Inc

Subject Search Server (SSServer) is a strong search application which will automate the retrieval and selection of all the useful information available on your Web Site.

YaCy 0.50
Michael Christen

YaCy is a free peer-to-peer application for web search.