CDmax 2.0.3

CDmax is a Windows 95/98/ME/NT/2000/XP audio CD player.

Developer:
clarktisdale.com
software by clarktisdale.com →
Price:
15.00 buy →
License:
Shareware
File size:
0K
Language:
OS:
Windows Vista

(?)

Rating:

0

/5 (0 votes)
CDmax is a Windows 95/98/ME/NT/2000/XP audio CD player.

It retrieves artist/title/track information from freedb, a database of CD information on the Internet. Information retrieved is stored locally for future reference and retrieval by the player.

CDmax enables you to submit entries to freedb.

CDmax can optionally minimize to system tray, with easy access to player functions through a right-click pop-up menu. System-wide hot keys can be set for player functions and the active window caption can be updated to keep you informed on the current track.

Other features include: built-in volume controls, user configurable track playlist, multiple CD drive support, and a variety of play modes (repeat track, repeat playlist, and shuffle, preview, intra-track repeat, pause at the end of a track).
tags

track repeat player functions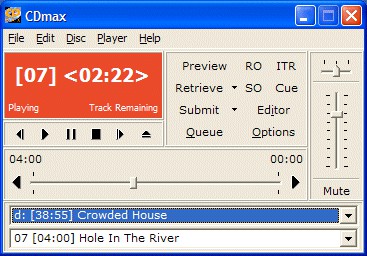 Download CDmax 2.0.3
Purchase:

Buy CDmax 2.0.3
Similar software

CDmax 2.0.3
clarktisdale.com

CDmax is a Windows 95/98/ME/NT/2000/XP audio CD player.

OrangeCD Player 6.5.7
Firetongue Software

OrangeCD Player is a classic systray based CD player tool which features a full set of playback options that includes random and programmed play, and a smart retain-position function (even if you restart your computer every ten minutes, you don't have to listen the first track over and over).

CD 1.1
Robin Keir

CD is a simple but fully functional CD player application.

Player 1.7.5
RF1 Systems

Audio and video player, playlist editor, mp3 tags editor.

MediaSauce 2.3
Flatcracker Software

MediaSauce plays MP3, WAV, MID, RMI, AVI, AVI (Divx), MOV 2.

EZ Player 2.0.1
JGOware

EZ Player is a system tray application which helps you organize your favorite music files (mp3, wav, mid, rmi) into multiple play lists and then play them back in the background while you are doing other tasks! You can create an unlimited number of play lists.

SongsToCD 2.7.1.2
Triton Interactive

SongsToCD is a program that lets you use your CD Burner to create your own "Mix" audio cds that you can play in any car or home CD player.

WinCD 2.71
Konrad Windszus

WinCD is a multimedia player, that can play back MP3s, CDs, Wave and Ogg-Vorbis files.
Hotamp 1.19
SLV Software

Hotamp is a plugin for popular player Winamp 2.

CLAmp 0.0.10
Tools

CLAmp is a small application that has the main purpose to drive Winamp through command line in a simple way.