WinCD 2.71

WinCD is a multimedia player, that can play back MP3s, CDs, Wave and Ogg-Vorbis files.

Developer:
Konrad Windszus
software by Konrad Windszus →
Price:
15.00 buy →
License:
Shareware
File size:
0K
Language:
OS:
Windows Vista

(?)

Rating:

0

/5 (0 votes)
WinCD is a multimedia player, that can play back MP3s, CDs, Wave and Ogg-Vorbis files. The software has a pitch control, with which you can set the play-back tempo. WinCD can grab digital audio from CD, which is also called DAE (Digital Audio Extraction). With this function you can digitally copy tracks from a cd without any losses. You can save these tracks as a wave- or as a mp3-file. Because all newer CD-ROM drives support reading digital audio with up to 40x-speed, the copy many times faster than other copy methods. Almost all CD-ROM drives are supported by various different reading modes.

With WinCD also the play-back is completely digital. That means, that your CD-ROM drive doesn't has to be connected with your soundcard. Also the quality is much better than in other software players.

WinCD supports the CD database freeDB and ID3 tags. That means, that WinCD can display additional information regarding the title, for example the artist, the year when the title was released and so on. Instead of displaying just "Track 01" for a CD track WinCD will show the interpret as well as the title of the track and will display something like "Linkin Park - One Step Closer". Today freeDB contains the data of 700000 CDs, so almost every CD will be found there.


WinCD features
play back of MP3, Wave, WMA and Ogg Vorbis files as well as Audio CDs

available in English, German and French

pitch control

seeking within a file

plug-in system as in WinAMP

freedb support (access to local and internet database)

reading and writing of ID3v1 and ID3v2 tags

volume control

PLS- and M3U-playlists

Drag and Drop

Grabbing (Digital Audio Extraction) of Audio CDs

MP3 encoding

detailed help file


Limitations
You can download WinCD for free, but every 15 seconds you hear a sound that reminds you of registering.

tags

you can digital audio play back the title also the that means audio cds means that rom drives wincd can ogg vorbis and ogg vorbis files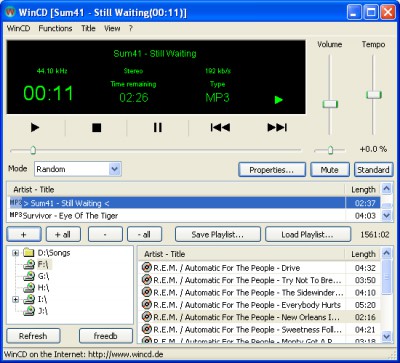 Download WinCD 2.71
Purchase:

Buy WinCD 2.71
Similar software

WinCD 2.71
Konrad Windszus

WinCD is a multimedia player, that can play back MP3s, CDs, Wave and Ogg-Vorbis files.

Quick CD Ripper 2.3.5
AbyssMedia.com

Quick CD Ripper created for extraction digital audio from cd's.

Raptor Audio 2.0
Raptor Audio

Raptor Audio - A free .

Advanced CD Ripper Pro 2.63
mp3do.com

Advanced CD Ripper Pro is a powerful application for ripping audio CD tracks to files of audio formats MP3, WMA, WAV, APE and OGG Vorbis on-the-fly.

AVS Audio CD Grabber 4.1.1.194
Online Media Technologies Ltd

AVS Audio CD Grabber is a CD ripper utility program that allows you to rip audio tracks from CDs, to download disc info from FreeDB (an Internet compact disc database) and to copy them to the local disk.

EZ MP3 Creator 1.5.2
Linasoft

EZ MP3 Creator is a very good package tool used to rip digital audio files from audio cds and encode them into MP3, WMA or Ogg formats.

AudioCrusher 1.4
SysDesk

AudioCrusher is a tool which lets you to extract digital audio from audio CDs and save the audio data in various sound formats.

dBpowerAMP Audio Player 2.0
Illustrate

dBpowerAMP Audio Player was designed to play Mp3s, WMA, Ogg Vorbis, Monkeys Audio, Real Audio, Wave and Midi.

Best CD To MP3 Ripper 1.00
cd-to-mp3-converter.com

Best CD To MP3 Ripper is an easy-to-use tool to convert your audio CD to MP3, WAV, WMA and OGG file.

AltoMP3 Gold 5.02
yuansoft

AltoMP3 Gold is an excellent CD ripper software for Windows.