Article Submit System 2.0

The Article Submit System software will help you submit your articles to an unlimited number of article directories.

Developer:
IndieRetailer.com
software by IndieRetailer.com →
Price:
37.00 buy →
License:
Comercialware
File size:
0K
Language:
OS:
Windows Vista

(?)

Rating:

0

/5 (0 votes)
The Article Submit System software will help you submit your articles to an unlimited number of article directories. Submitting and posting articles increases your site traffic by including backlinks from all the directories as well as establishing yourself as a expert on the topic in which you write.

By writing informative and useful articles, your readers will consider you a professional in your field and seek out more information by clicking on your website. Your website link is always conveniently placed in your "Resource Box" or bio box.

Our article submission software is user friendly and customizable. With an integrated browser and over 150 of the most popular directories already installed, you can swiftly and easily navigate and submit to each one. We've already given you a head start by programming over 150 of the most widely used article directories into our software for you to submit to.

However, there are possibly hundreds more article directories that are not yet programmed in. This software is created so that you can easily make changes to the directory database including adding more article directories.

Submitting to directories serves several purposes. First, you should understand that by having your website information and link in your resource box, you'll create hundreds of links to your website by submitting to the directories.

Second, if you simply submit one article, you will increase your one way link popularity by the number of directories you've sumitted to. To increase that technique even more, simply write more and submit more. Each new article gets
tags

your website article directories you can and submit more article the most resource box directories submitting the directories your resource over 150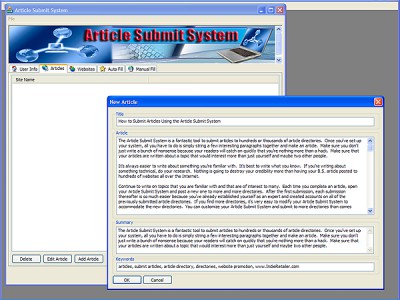 Download Article Submit System 2.0

Download Article Submit System 2.0

Purchase:

Buy Article Submit System 2.0
Similar software

Article Submit System 2.0
IndieRetailer.com

The Article Submit System software will help you submit your articles to an unlimited number of article directories.

Article Submitter 4.0
Fastlink2

Article Submitter is a semi-automatic submission to the most current list of directories lets you focus on writing content, not submitting it.

Article Distributor 1.1.2
After 5 Web Design

Many web professionals know the value of submitting articles to get more in bound liunks and generate qualified traffic for their web site.

Free Article Software 1.0
Bandoni Media

Free Article Software allows web site owners to submit custom written articles to all major article directories using our fully automated program.

FastContent 1
Truecontent

FastContent is a website content generation tool.

Ultra Submit Pro 7.0
ultrasubmit.com

Ultra Submit Pro is an easy to use, professional website promotion tool.

SubmitEaze 2.0
Pivotal Systems Ltd

SubmitEaze is a semi-automated directory submission software package that is used to submit your website to hundreds of web directories quickly, effectively and effortlessly.

RSS Submit 5.926
k.soft

RSS Submit is a program that allows you to submit RSS feeds.

Traffic Geek 8.0
TrafficGeek.net

Traffic Geek is Search Engine submission software to submit your websites to more than 900, search engines, directories and link pages including Google, Yahoo and Dmoz.

SoftSubmit 1.12
AnalogX

Are you a software developer? Tired of submitting your apps to tons of file directories? Let AnalogX help you out a bit.