AbleGet 8.6

AbleGet - Find, download and upload files and MP3 much EASIER and FASTER.

Developer:
Bart Michel
software by Bart Michel →
Price:
15.00 buy →
License:
Trial
File size:
0K
Language:
OS:
Windows Vista

(?)

Rating:

0

/5 (0 votes)
AbleGet - Find, download and upload files and MP3 much EASIER and FASTER. Do not worry about slow transfer, broken downloads or finding rare MP3 music.

Download even big movies whenever you want without nervous waiting. AbleGet will make your Internet connection FASTER. Save your time and nerves!

In an easy way:

you can pause and resume - download and upload music, movies and files without problems,

AbleGet will automatially select the fastest server,

you will have accelerated Internet speed - faster downloads,

find files and rare MP3s with your favorite search engines,

you can repair ZIP and SFX files,

extract links from web pages,

you can schedule tasks

AbleGet can:

monitor clipboard and integrate with browsers,

monitor online status - dial and hang-up modem,

turn off computer on finish or at specific time,

handles proxy, firewall, HTTP redirections.

If you work online and download software, music or films, AbleGet will make your life easier!

tags

you can ableget will and upload make your will make download and files and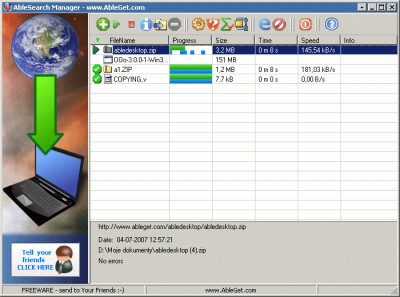 Download AbleGet 8.6
Purchase:

Buy AbleGet 8.6
Similar software

AbleGet 8.6
Bart Michel

AbleGet - Find, download and upload files and MP3 much EASIER and FASTER.

Lightning Download 1.6
Headlight Software

Lightning Download is a Download Manager to help you download files from the Internet.

GetRight 6.5
Headlight Software

GetRight extends your file downloading with resuming of broken downloads, easy error recovery, download acceleration, and many other features to give you faster and more flexible downloads.

DownShift Download Manager 1.0
Rose City Software

Have you ever had an incomplete or corrupt download from the Internet? Did you ever lose a downloaded file and not know where it was on your computer? Have you ever been disconnected from the Internet part way through a huge download and had to start all over again? Have you ever wanted to manage your downloads and possibly download a number of files at the same time? If you answered yes to any of these questions, then you need to take a look at DownShift.

Nitro Downloader 3.0
KL Soft

Nitro Downloader is the modern easy-to-use tool for accelerating and managing your downloads.

Fresh Download 8.71
Fresh Devices

Fresh Download is a download manager.

Advanced Internet Tool 2.2.2
AndySoft

Advanced Internet Tool is powerfull download client with built in FTP client, Scheduler, HTML links extractor and downloads manager.

ReGet Deluxe 4.3 build 287 beta
ReGet Software

ReGet Deluxe is a tool developed to be the powerful download manager for downloading from Internet with the unmatched speed.

WinGet 2.1
Indentix, Inc.

WinGet is a download manager application that can increase your download speeds by up to 300%.

Mp3search 1.0
Mp3 software

Mp3 search is an easy to use and fast program to find and download MP3 files on the Internet.