Startup Guru 2.2

Startup Guru will manage the application that load on your Windows computer each time it starts.

Developer:
Lincoln Beach Software
software by Lincoln Beach Software →
Price:
19.00 buy →
License:
Shareware
File size:
0K
Language:
OS:
Windows Vista

(?)

Rating:

0

/5 (0 votes)
Startup Guru will manage the application that load on your Windows computer each time it starts.

You can add, remove or temporarily disable any item. Great for removing adware/spyware or anything else that is slowing down your ability to get started using your computer!

The ability to schedule startup items is another handy feature. Many programs don't need to start right away, so setting them to start at a specific time after bootup helps to optimize the bootup process.

By spacing out the many programs that may be loading it will keep programs from fighting for your precious system resources all at once. Doing so allows you to access your computer faster! Startup Guru can also remove reoccurring entries from your system areas on boot up. If you have some type of adware/spyware that keeps inserting itself you can allow Startup Guru to remove the entry on bootup before it is accessed.

In the Advanced mode you can utilize Profiles to store bootup options. Create a profile for when you play games, one for when you're doing business, or any other specific need and assign it to load the next time you log in or boot up. Your system will load the assigned programs and you'll be off and running in no time!


Startup Guru features
See what Windows is starting up.

Temporarily disable startup items.

Manage your startup programs.

Remove adware/spyware programs.

Optionally Prompt to load

Profiles allow you to manage bootup options.

Schedule when programs should start.

Speed up Windows startup and use your machine faster.

tags

startup guru adware spyware you can for when when you bootup options load the startup items temporarily disable your computer many programs your system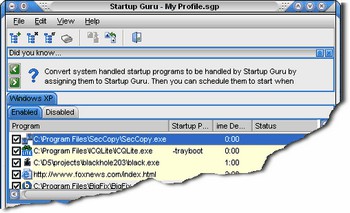 Download Startup Guru 2.2
Purchase:

Buy Startup Guru 2.2
Similar software

Startup Guru 2.2
Lincoln Beach Software

Startup Guru will manage the application that load on your Windows computer each time it starts.

Startup Select 2.2
k.soft

Startup Select is a powerful Windows startup manager.

Startup Agent 2.1
KillerSoftware LLC

Startup Agent is a Windows 98/ME/XP/2000 product that provides constant monitoring of the startup areas during your Windows session.

1st Startup Manager 1.0
1stdesktop.com

1st Startup Manager helps manage your startup applications and provides information on programs that run when you start up Windows.

Absolute Startup manager 6.0.0.1
F-Group Software

Absolute StartUp manager helps you control, manage and optimize Windows startup configuration.

Startup Optimizer 1.6
Cyberlion

Cyberlion Startup Optimizer will inspect programs loading at Windows startup and keeps your PC running faster, cleaner, and error-free.

Remove Startup Programs Buddy 2.2
Scorpio Software

Remove Startup Programs Buddy is a useful freeware application that will remove malicious programs from Windows startup.

Ultimate Startup Manager 1.1
GigaBest

Ultimate Startup Manager helps you take total control over your Windows startup.

Startup Inspector 2.2
Windowsstartup.com

Windows Startup Inspector is a Windows platform tool that helps Windows user to manage Windows startup applications.

Startup Faster! 2004 1.6
URSoft,Inc

Startup Faster! 2004 is a revolutionary software to make your computer boot much faster than ever while protecting your hard disk from sudden failure.