SnapTouch 3.0

SnapTouch has features that are useful for any digital photo fan.

Developer:
AccentSoft Team
software by AccentSoft Team →
Price:
24.00 buy →
License:
Shareware
File size:
0K
Language:
OS:
Windows Vista

(?)

Rating:

0

/5 (0 votes)
SnapTouch has features that are useful for any digital photo fan. With SnapTouch, any photographer, whether amateur or professional, can easily connect to an image source (a digital camera, a flash disk or other source), view and sort photos, specify where to copy them to and import them to a computer. SnapTouch is a very easy to use application.

SnapTouch can automatically rotate and/or rename photos while copying them. You can specify rules for renaming files. SnapTouch can also rename entire groups of photos. You can also rename digital photo files after they are copied.

SnapTouch has a convenient tool for removing the "red-eye" effect. Just select the area with the red-eye effect; SnapTouch will automatically detect it and make its color natural.

SnapTouch works with metadata (EXIF) from your digital photos and can display it. SnapTouch uses this information for renaming files, writing comments, and date stamping photos. Before printing a photo, you can stamp it with the unique date and time it was taken. You can easily specify the location and style of this information.

With SnapTouch you can semi-automatically crop groups of files while maintaining their proportions. Never before has is been so easy to change your photos' proportions.

SnapTouch has many other features common to this type of software: previewing changes, adjusting brightness, contrast and spectrum, resizing photos, adding comments, mirroring, viewing photos in full-screen mode and much more. Many effects are applied without additional compression and without reducing the quality of your photos.
tags

you can snaptouch has red eye the red eye effect your photos this information with the also rename renaming files with snaptouch digital photo can easily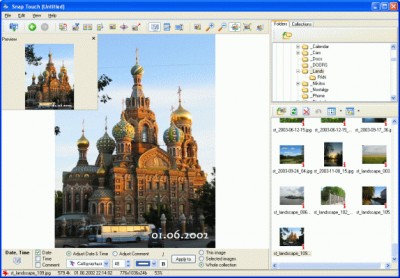 Download SnapTouch 3.0
Purchase:

Buy SnapTouch 3.0
Similar software

SnapTouch 3.0
AccentSoft Team

SnapTouch has features that are useful for any digital photo fan.

Digital Photo Cut 2.0
Efimov & WebMedia

Digital Photo Cut allows you to cut your digital photos in order they would fit in standard photo paper size.

Namexif 1.3
DigicamSoft

Namexif is a free and useful utility that will automatically rename photos with the date they were shot.

Photo Finish Pro 1.20
GatorData, Inc.

Photo Finish Pro is photo application that is the easiest way to manage, import, email, edit, and print your photos from your digital camera.

TimeToPhoto 1.6
Alexei Popov

Most of digital cameras don't add datestamps to digital photos.

CammyPlus 1.9
Dipl.-Inform. Bernd Bock

CammyPlus - The Digital Camera Photo Tool Plug in your digital camera and immediately copy your photos to your PC, display the pictures in full screen, and rapidly edit with ease - CammyPlus is a program you won't want to miss anymore.

memecats 1.0
memecats.com

memecats is an image viewer for cat lovers to import, view, organize, edit, print, and share their cats photos.

OODogs 1.0
OODogs.com

OODogs is an image viewer for dog lovers to import, view, organize, edit, print, and share their dogs photos.

Stamp 2.8
Tempest Solutions

Stamp is an award-winning program that renames digital camera photos so they sort in chronological order.

Xe847 Photo 1.8.1
Digital Arts GmbH

Xe847 Photo is a fast, simple and useful application which filters and saves your Photos.