Replay AV 8.82

Replay A/V is the most powerful way to capture Streaming Video and Audio, including Radio Shows, Online TV Broadcasts, Video Clips, Audio Archives, and Podcasts.

Developer:
Applian Technologies Inc.
software by Applian Technologies Inc. →
Price:
49.00 buy →
License:
Demo
File size:
0K
Language:
OS:
Windows Vista

(?)

Rating:

0

/5 (0 votes)
Replay A/V is the most powerful way to capture Streaming Video and Audio, including Radio Shows, Online TV Broadcasts, Video Clips, Audio Archives, and Podcasts. And best of all, it's really easy to use.

Replay A/V makes it easy to save all types of online media. With it you can record any streaming audio and video instantaneously, or schedule recordings to happen automatically later.

Plus, the integrated Replay Media Guide lets you pick Radio Shows, Radio Stations, TV Stations and Podcasts to record with a single click. Replay A/V also captures Sirius and XM Online, too!

All the popular formats are supported, including Windows Media, Real, Streaming MP3, Flash Animations and Flash Video. Plus, Replay A/V includes an audio recorder that can snag anything you can hear.

If you have an iPod or another MP3 Player, Replay A/V has some very handy ways to copy files to your device. For iPods, you can make Audiobook files, which let you make bookmarks in long audio files. All recordings can be automatically copied to any MP3 Player or iTunes.


Replay AV features
For TV and Radio Shows:
Records any audio format.

Record Sirius™ and XM Radio™ online.

Integrated Replay Media Guide contains 1214 Radio Shows, 4930 Radio Stations , 22718 Podcasts and 513 TV Stations.

URL Finder lets you capture ANY online audio or video.

Records multiple stations simultaneously.

Records with perfect reproduction at the smallest possible size.

Eliminates background noises from audio recordings.

Record to MP3, WMA, WAV, OGG and AAC.

Make audio and MP3 CDs.

Automatically import recorded shows into iTunes

Makes Bookmarkable files for iPod listeners

Options to split recordings by silence, time or minutes after the hour.

Listen in less time with Compress Speech feature.

Eliminate long periods of silence from recordings.

Quick Record makes it easy to record instantly.

Includes Replay Player for listening on the PC and skipping over unwanted audio.

Support for WiFi Boomboxes and media extenders via uPnP

Custom conversion system to add your own conversions.

Record from radios attached to your PC.

Record from the Microphone.

For Podcasts:

Subscribe to 22718 Podcasts (and counting) with just one click.

Download individual episodes to iTunes with One Click.

Convert automatically to iPod bookmarkable.

Retags genre on MP3s to make organizing shows easy.

BitTorrent support

Burn podcasts directly to CDs

Option to limit number of shows downloaded when subscribing.

Check for new shows at specified times or intervals.

Podcast Media Guide lets you search by name, description, show notes, or even audio within any episode.

Dynamic Feeds let you make subscription lists for others.

tags

radio shows lets you you can podcasts and media guide let you 22718 podcasts one click record from mp3 player you make guide lets and podcasts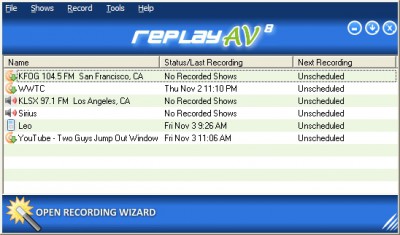 Download Replay AV 8.82
Purchase:

Buy Replay AV 8.82
Similar software

Replay AV 8.82
Applian Technologies Inc.

Replay A/V is the most powerful way to capture Streaming Video and Audio, including Radio Shows, Online TV Broadcasts, Video Clips, Audio Archives, and Podcasts.

Easy Radio 1.5
Topdownloads Networks

Listen live to over 30000 radio stations on your PC! Now you can listen to thousands of great radio shows on-demand! Easy Radio makes it easy to capture Broadcast Radio Shows, XM Radioâ and Podcasts with just One Click.

Replay Media Catcher 5.0.1.54
Applian Technologies Inc

Replay Media Catcher is a software that lets you capture streaming Flash Video and MP3 Audio from previously unrecordable streams.

AudioSpin Media Recorder 1.09.041
Ellipsa Technologies

AudioSpin is a powerful streaming audio recorder, with access to more than 11,000 Internet radio stations.

Replay Music 2.51
Applian Technologies Inc.

Wouldn't it be great if you could make MP3s from online radio stations, MySpace, Music Videos, Digital Music Services, or anywhere else, automatically? With the artist, album, song and genre placed into the file for you? You can with Replay Music! Replay Music is a unique streaming music recorder that allows you to capture MP3 files from any streaming source.

Skado 1.0.6.103
BlueCielo

Skado allows you to record ANYTHING that your PC can play - instantly, painlessly, and as easily as making toast! You can Pause streaming audio, then listen at your convenience, all while keeping pace with the live broadcast - Skip commercials and Replay your favorite songs.

AudioTime 3.0
NCH Swift Sound Software

AudioTime lets you schedule your Windows computer to record or replay audio at certain dates and times or regular times on certain days of week.

WM Recorder 15.2.0
Applian Technologies Inc

WM Recorder is an easy to use, powerful application to record Windows Media™ video and audio streams.

StationRipper 2.73
Ratajik Software

StationRipper will allow you to easily record Shoutcast Internet radio and TV stations.

Replay 2.2
Intermediaware

Listen to over 6000 online radio stations and save the songs as MP3-Files to your harddisk.