PowerDVD 6.0

PowerDVD - Play the broadest range of audio and video files and formats.

Developer:
CyberLink
software by CyberLink →
Price:
29.00 buy →
License:
Trial
File size:
0K
Language:
OS:
Windows Vista

(?)

Rating:

0

/5 (0 votes)
PowerDVD - Play the broadest range of audio and video files and formats. Enjoy the smoothest, brightest, and most natural visuals. Using PowerDVD you can experience high-definition audio and 8-channel expansion. Navigate quickly with shortcuts, bookmarks and other cool controls. Expand your features online with DVD enhancement packs

Unsurpassed Video Quality

Intensely Vivid Images
The second generation of CyberLink's world-renowned video enhancing technology makes images brighter and colors more natural. CLEV-2 adjusts a scene's chroma and luminance to enhance image detail, and thus achieves the best possible results for LCD/CRT monitors and playback of overly dark or bright DVD movies.

Smart Video Deinterlacing
CyberLink's adaptive video deinterlacing technology ensures a smoother and clearer video image while playing video files and DVDs. Deinterlacing is unavoidable as a result of playing interlaced DVD video on modern high-definition (mainly non-interlaced) displays (e.g. TVs). Without advanced deinterlacing, video can appear jagged, blotchy, shadowy, or blurry. CyberLink's intelligent deinterlacing technology retains video quality and minimizes distortion by analyzing video frame-by-frame and dynamically applying adaptive deinterlacing only when necessary.

Users also have a choice of deinterlacing options, including automatic deinterlacing or user-defined settings. Defining how deinterlacing is performed and by what algorithm is also an option: Pixel Adaptive, Median or Bob.

Multi-Display Ratios
PowerDVD supports multiple display ratios, letting users play 4:3 DVD movies on widescreen displays and 16:9 DVD movies on 4:3 displays. A natural stretching technology is utilized to avoid losses that would otherwise be created by Pan & Scan cropping or Letterbox display

Superior Audio Fidelity

Cinematic Surround Sound
The second generation of CyberLink's proprietary audio technology expands 2-channel audio into multi-channel audio (e.g. CD expanded to 5.1 channels). CLMEI-2 maps stereo or general surround sound and converts it for output via a maximum of 7.1-channel systems. Music mode, Movie mode, and the unique Onstage music modes are offered.

Virtual Surround Sound
CyberLink's Virtual Surround technologies simulates the feeling of surround sound when multi-channel audio is played via two speakers or headphones (CLVS and CLHP). PowerDVD provides a choice of three audio environments for CLVS: Living Room, Theater, and Stadium.

Virtual Surround Sound
CyberLink Headphone and CyberLink Virtual Surround let you enjoy a wider sound image and virtual surround experience via two speakers or headphones.
tags

surround sound virtual surround channel audio dvd movies two speakers multi channel sound cyberlink display ratios via two video deinterlacing high definition files and video files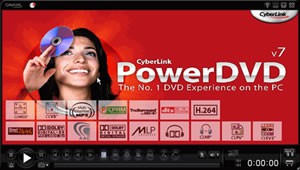 Download PowerDVD 6.0
Purchase:

Buy PowerDVD 6.0
Similar software

PowerDVD 6.0
CyberLink

PowerDVD - Play the broadest range of audio and video files and formats.

Fraunhofer MP3 Surround 2.0
Fraunhofer IIS

The new MP3 Surround format will offer multi-channel sound while being fully backwards compatible to stereo MP3.

Cyberlink PowerCinema 5.0.3508
CyberLink Corp

CyberLink PowerCinema is the tool you need - a TV Entertainment Center · Watch analog and digital TV programs with time-shift playback · Record your favorite TV and radio shows with smart scheduling · Search for TV programs that match your interests via EPG · Watch two channels simultaneously using PiP mode · Play DVDs, videos, photos, and music.

CyberLink DVD Solution 4.0
CyberLink Corp.

CyberLink DVD Solution is your DVD everything for playback, authoring and burning.

Hero Super Player 3000
Century Herosoft Computer Technology Co.,Ltd

The software video player supports almost all formats and disks, you needn't other software player to play various video files.

Cyberlink MagicDirector 1.0
CyberLink Corp

CyberLink MagicDirector is an easy-to-use video editing software featuring CyberLink technology that automatically cleans and edits video content.

Dolby Surround Plugin 4.7
Rebontek

Dolby Surround Plugin - One of the best consumer sound enhancement/improvement/dsp effects software for digital music.

Hero DVD Player 3.0.8
Century Herosoft Computer and Technology Co.,Ltd

Hero DVD Player is a powerful DVD player software that offers advanced video and audio playing entertainment on the PC.

Maven3D Professional 1.32
Emersys

Maven3D Pro is a video referenced 3D audio editor where you can record, edit and mix up to 24-bit/96 kHz pro quality 5.

Easy DVD to VCD Burner 2.0.57
EasyDVDCDBurner.com

Easy DVD to VCD Burner is an easy-to-use DVD ripping, backup, and burning software for Windows.