PicaView 2.0

PicaView 2.

Developer:
ACD Systems
software by ACD Systems →
Price:
29.00 buy →
License:
Shareware
File size:
0K
Language:
OS:
Windows Vista

(?)

Rating:

0

/5 (0 votes)
PicaView 2.0 - is a Windows Explorer add-on that has all the functionality of an image viewer, mpeg viewer, jpeg viewer and movie viewer. It's available for use with a single right-click from anywhere in Windows. PicaView 2.0 digital imaging software gives you the ability to view and play over 40 different image and multimedia file formats including jpeg, ico, tiff, gif, wmf, bmp, avi, and mpeg. PicaView also provides easy right click access and previewing of mp3 and WAV files and ZIP file archiving functions. It's also perfect for viewing the images from your digital camera.

With PicaView 2.0 you can perform many different image processing and batch file management functions including: Creating and printing image contact sheets, converting images into other formats, re-arranging images within a folder, and rotating JPEG files. You can also share your images and digital photos on the Internet via SendPix.

As an integrated program extension, PicaView 2.0 is always ready and available for use with a single right-click in the following areas: Windows Explorer, Find Files/Search results, My Computer, and the Save as/Open dialog boxes. PicaView 2.0's many convenient features make it the perfect choice for your digital photo viewing and digital camera software needs. Plus, you can use ACDSee 3.1 plug-ins with PicaView 2.0. Download this digital imaging software today!
tags

right click you can different image your digital with picaview and digital imaging software digital camera digital imaging available for itamp apos for use use with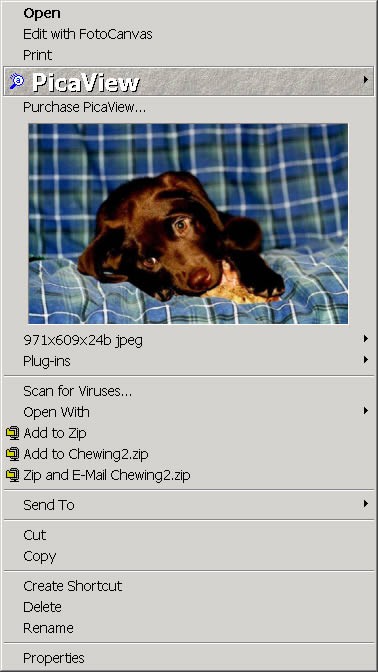 Download PicaView 2.0
Purchase:

Buy PicaView 2.0
Similar software

PicaView 2.0
ACD Systems

PicaView 2.

Fine Image Viewer 2.0
fine image viewer

Fine image viewer is the complete solution for the digital photography enthusiast.

Photo Gadget Viewer 2.0
XemiComputers

Photo Gadget Viewer is a Windows software for browsing through digital images.

i-Fun Viewer 8.0
Xequte Software

i-Fun Viewer is fast, image viewer with support for all common image formats.

Fast View 2.1.01
Easy Desk Software

The graphic and text file viewer that allows you to view a slide show of images in 3 formats, including full screen.

Digital Image Viewer 1.1
Specialty Software

Digital Image Viewer is a very useful image utility that allows you to edit , manage and view images.

CodedColor PhotoStudio 4.1.4
1STEIN GmbH

Small and easy to use photo viewer, and a digital image archiving and editing software.

ACDSee PowerPack 7
ACD Systems

ACDSee is an award-winning picture viewer, graphic converter and digital image management tool.

Apear Picture Viewer 6.3
Pear System

Apear Picture Viewer is a powerful image organizer.

MS RAW Image Thumbnailer and Viewer Powertoy 1.0
Microsoft Corp.

The Microsoft RAW Image Thumbnailer and Viewer is a free "PowerToy" for Microsoft Windows XP that provides the ability to view, organize, and print photos captured in RAW image formats from supported Canon and Nikon digital cameras.