Music Fancier 1.3

Music Fancier is a designed for music files management.

Developer:
MusicFancier
software by MusicFancier →
Price:
19.00 buy →
License:
Trial
File size:
0K
Language:
OS:
Windows Vista

(?)

Rating:

0

/5 (0 votes)
Music Fancier is a designed for music files management. With this program you can quickly and easily search, view/edit tags, rename file by tags, copy musics to any folder, create playlist for others Media Player(Like WinAmp). etc... Use Music Fancier to manage your music collection and not want to know where they are!

Music Fancier supports:

Mpeg Layer 3 (mp3)

Advanced Audio Coding (aac)

Ogg Vorbis (ogg)

Free Lossless Audio Codec (flac)

Monkey's Audio (ape / apl)

MPEG-4 (mp4 / m4a / m4b)

Musepack (mpc / mp+)

Windows Media Audio (wma / wmv / asf)

Real Audio (ra / rm)


Limitations
30 day trial

tags

music fancier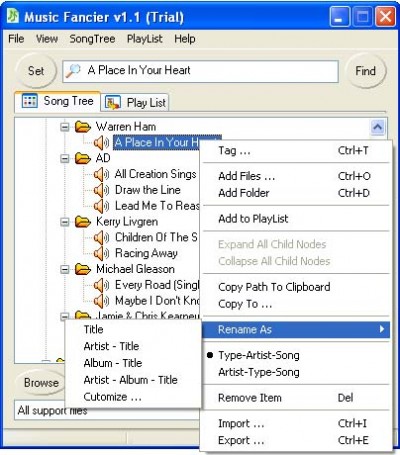 Download Music Fancier 1.3
Purchase:

Buy Music Fancier 1.3
Similar software

Music Fancier 1.3
MusicFancier

Music Fancier is a designed for music files management.

Passion Audio Player 5.0
George Boudouris

Passion Audio Player is an audio player for those who have passion with PCs and Music.

Music Xpert Tag Editor 2.80
Music Xpert

Music Xpert tag editor is a professional software solution for audio file tags editing.

Helium Music Manager 12.2
Intermedia Design

Helium Music Manager is a Windows application which allows you to catalogue virtually any music collection; everything from mp3 files to audio CDs and from vinyl records to tapes.

Tag&Rename 3.3.5
SoftPointer

Tag&Rename is a powerful, easy-to-use program for organizing and archiving your library of mp3 music files.

Nero Mega Plugin Pack 1.0
EvilDead500 & MaCiO

Nero Mega Plugin Pack provides you with more features than Enterprise Edition! Use Nero as a unlimited encoder for following media: Audio Plugins: · AAC/MP4 AudioCoding.

Music NFO Builder 1.19
Pawel Piecuch

Music NFO Builder will automatically build: nfo, pls, m3u, sfv, md5 from mp3/ape/mpc music files.

Mitec Media Manager 1.0
Mitec

Media Manager is a free program that scans disks for audio files of following format MPEG 1 Layer 3 (*.
dvdPean 5.8.5
dvdPean Software

dvdPean is an up to date audio DVD extractor which offers a simple, fast method to rip DVD to Mp3, Wav, Wma(windows media Audio), Ogg, RA(Real Audio), AAC/MP4(Advanced Audio Coding), APE(Monkey's Audio Encoder), FLAC (Free Lossless Audio Codec)file format; Using dvdPean, you are able to rip audio tracks out from a DVD with ease.

MuvAudio 3.7.0.0
MuvEnum

MuvAudio2 will convert for you the audio of most audio/video files which are playable by Windows Media Player into MP3, WMA, OGG, MP4, FLAC, WAV and other formats.