ImageConvertor 1.9

ImageConvertor enhances and resizes multiple images at once.

Developer:
ACS Soft Solutions
software by ACS Soft Solutions →
Price:
24.00 buy →
License:
Trial
File size:
0K
Language:
OS:
Windows Vista

(?)

Rating:

0

/5 (0 votes)
ImageConvertor enhances and resizes multiple images at once.

It's a batch photo resizing and converting tool that saves you time by enlarging, converting or shrinking your images automatically.

ImageConvertor includes image conversion, thumbnail creating, single frame extracting, image watermarking so you can protect or copyright your photos.


Limitations
15 days trial version
tags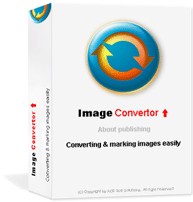 Download ImageConvertor 1.9
Purchase:

Buy ImageConvertor 1.9
Similar software

ImageConvertor 1.9
ACS Soft Solutions

ImageConvertor enhances and resizes multiple images at once.

Photo Shaman 1.8T build 30
Brave Orange Software

Photo Shaman is a handy utility for creating stylized thumbnail images for image galleries and photo albums.

Digital Photo Resizer 2006
Icegiant Software

The award winning Digital Photo Resizer quickly and accurately resizes a mass of photos at once ( JPGs, GIFs, PNGs and BMPs ).

PicSwitcher 2.0
maxoutput.com

PicSwitcher is a tool for converting picture files between different formats, printing thumbnail sheets, and creating web pages.

Aicbit 3.0.2
KsL Software

Aicbit is an application that can search your hard drives, CD-ROMs, floppy and other media for any images.

Iseult 1.1
Tristan Richard

This is a batch conversion tool that resizes your images and saves them as JPEGs.

Image Format Studio 1.0
McPherran Software

Image Format Studio is a fast, convenient, and powerful tool for converting and resizing images.

Image Anvil 2.0.5.28421
Compact Data Mangement Ltd

Image Anvil is a complete image management program, offering intuitive tools for viewing, renaming and converting of all common image files types including multi-page tiff, jpg, gif, wmf, wbmp, pdf and more.

Batch Photo WaterMark 1.00
ussun

Add text watermark to your photos in seconds!You can add copyright information to your web images,or you can add text to your digital photos.

Usingit Image Resizer 1.0
Usingit.com

Usingit Image Resizer will help you to process a lot of images with several clicks.