gPage 1.3.5

gPage is a powerful but easy to use drawing software gPage is easy to use.

Developer:
Coliade inc.
software by Coliade inc. →
Price:
30.00 buy →
License:
Trial
File size:
0K
Language:
OS:
Windows Vista

(?)

Rating:

0

/5 (0 votes)
gPage is a powerful but easy to use drawing software

gPage is easy to use. Choose an object among those available (text, line, rectangle, etc.), place it on the page and modify it afterward. Each object has it's own context menu showing all possible modifications for it: no need to delve into the menu system to find out what you can do. You can modify any object without affecting any other, making edition a breeze.

Print or export your work to file in JPG, PNG or WMF format.

With gPage, you will create:

Web images

Digital photo presentations

Pictures to include in other documents

Technical diagrams and illustrations

Commercial presentations

Logos

CD labels and jackets

Pamphlets and flyers


gPage features
Symbols

Adjustable grid and snap

Layers

Scale to mm, inches and feet/inches

Position and displacement values keyed in

Multilevel undo/redo

Surface calculation for a polygon

And many more !


Requirements
1.2 Mb of disk space for program


Limitations
30 days trial

tags

can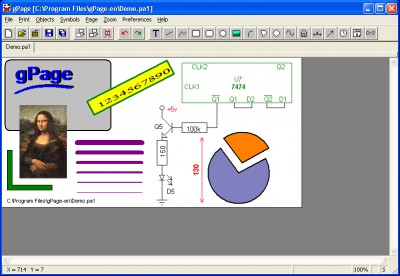 Download gPage 1.3.5
Purchase:

Buy gPage 1.3.5
Similar software

gPage 1.3.5
Coliade inc.

gPage is a powerful but easy to use drawing software gPage is easy to use.

JustCad 7.0
Jon Hoke

JustCad is configurate, to make cad drawing as simple as possible even for a beginer.

Schematic 3.17
Dot Software

Schematic is a useful and reliable diagramming tool which allows complex schematic diagrams to be drawn with ease.

Feet and Inches Calculator 1.0.61
Stringer Software

Absolutely the best and easiest to use feet and inches (Architectural) calculator.

RapidSketch 2.3
Utilant, LLC

RapidSketch is the fastest and easiest to learn software for creating accurate floor plan layouts.

Diagram Studio 6.0
Gadwin Systems, Inc.

Diagram Studio represents a powerful application designed to create professional-looking business, technical drawings and illustrations for your documents quickly and easily.

PhotoOne Print 1.5
Best IT Solutions

PhotoOne Print is an advanced digital photo printing software for everyone.

E-XD++MFC Library Enterprise 10.60
ucancode software

E-XD++ MFC Library is an MFC extension library that allows you to create the most advanced user interface in the world.

Avax Vector ActiveX 1.3
CivilTech

Avax Vector ActiveX helps you to view, create, edit, print, and manage 2D vector drawings.

CeledyDraw 2.0
Celedy

CeledyDraw 2 is Powerful, Easy-to-Use and Affordable 2-in-1 Graphic Design and Desktop Publishing Software that anybody can use to create attractive, professional looking works in minutes.