EZ-Pix 8.0

EZ-Pix is a fast, powerful viewer with support for all common image formats.

Developer:
Xequte Software
software by Xequte Software →
Price:
19.00 buy →
License:
Shareware
File size:
0K
Language:
OS:
Windows Vista

(?)

Rating:

0

/5 (0 votes)
EZ-Pix is a fast, powerful viewer with support for all common image formats.

It has an streamlined interface and is simple to use.

Despite its simplicity it offers many advanced functions, such as complete thumbnail control, exporting to HTML and thumbsheets, file and image editing functions.

Here are some key features of "EZPix":

Supports all common image formats: JPEG, GIF, animated GIF, Bitmaps (BMP, RLE and DIB), TIFF, Metafiles (WMF and EMF), Icons (ICO), PNG, PCX, TGA, PBM, PGM and PPM

Thumbnails display with support for memory and disk caching

Images can be added to favorites for later viewing or saving as an image collection

Advanced thumbnail display, printing and exporting functionality, including the ability to create thumbnail image sheets and text file description lists

Assigning of text descriptions to images

Ability to create HTML thumbnail indexes allowing you to browse your images with a web browser or publish them to the Internet

Optional password restricted access

Optional storage of image files with false extensions (such as .DLL) to make them invisible to other users/programs

Watch Folder function automatically displays files when saved to a specified folder by another application, such as a newsgroup downloader

Standard viewing features, such as Slideshow, Zoom and Shrink to fit and Stretch to fit.

Advanced viewing features, such as background load, fast display and cancel during load.

Image manipulation functions including rotate, flip, crop, resize and various filters and effects

Supports acquisition of images from Twain-compliant scanners and digital cameras

Supports Wheel Mouses, such as Microsoft Intellimouse

Images can be launched into new image windows, and image windows toggled through with a single key

Support for Drag and Drop of files and folders between Windows Explorer and other applications

Forwarding of images via e-mail

All standard file and folder management functionality and image conversion features.

tags

and image support for images can viewing features image windows features such file and all common common image image formats with support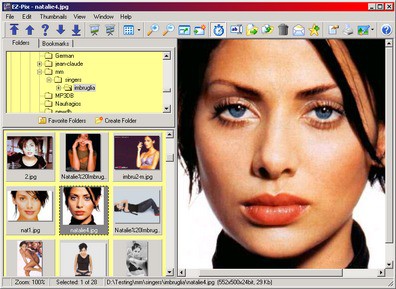 Download EZ-Pix 8.0
Purchase:

Buy EZ-Pix 8.0
Similar software

EZ-Pix 8.0
Xequte Software

EZ-Pix is a fast, powerful viewer with support for all common image formats.

i-Fun Viewer 8.0
Xequte Software

i-Fun Viewer is fast, image viewer with support for all common image formats.

Able Image Browser 2.0.14.14
GraphicRegion.com.

Able Image Browser is a very useful, full featured image browser and editor which is fast, simple-to-use and inexpensive.

Able Photo Slide Show 2.20.6.24
GraphicRegion.com

Able Photo Slide Show - Have you ever wanted to see all the digital photos and other graphic files in a folder without opening each up individually (one after another)? Well, Able Photo Slide Show displays your graphic files in a folder continuously without you doing anything.

MegaView 12.0
Xequte Software

MegaView is a comprehensive viewing solution that supports all common image, multimedia (AVI, MPEG, MP3, etc), text and Office formats.

Fine Image Viewer 2.0
fine image viewer

Fine image viewer is the complete solution for the digital photography enthusiast.

One Cat Viewer 4.1
One Man And A Cat Software

One Cat Viewer is a free and useful thumbnail-based image viewer.

PolyView 4.33
Polybytes

PolyView is a powerful and fast image viewer, conversion and printing application.

CDH Image Explorer Pro 7.2
CDH Productions

Image Explorer Pro is the most complete, all-in-one image and video solution currently available.

Batch It! Pro 6.00
iRedSoft Technology Inc

Batch It! Pro is a Windows based GUI Batch Image Processor that will allow users to resize, rename, convert, add caption, create HTML Thumbnail Galleries and much more.