Back4WinXP 5074

Back4WinXP Backup solution features reliability, as well as ease of use.

Developer:
AGM
software by AGM →
Price:
24.00 buy →
License:
Shareware
File size:
0K
Language:
OS:
Windows Vista

(?)

Rating:

0

/5 (0 votes)
Back4WinXP Backup solution features reliability, as well as ease of use.

Industry standard ZIP compression ensures that your data will be accessible regardless of which PC operating system, or version you are using (eg Linux, Windows(all) Mac and so on).


Back4WinXP features
Backup your data as an EXE file that can be expanded on most machines without decompression software.

Powerful arrangement of backup size - spanning disks, predefined disk size to suit CDR CDRW media etc.

Logical, easy to use functions without annoying pop-up windows. Easy and fast ways of doing your backups.

Catalog files allows define and reuse previous settings.

Versioning saves variations of the same file within the same archive. Basic and Expert modes.

Backup reports and ZIP comments.

Pause, shutdown, Tray Icon.

Spanned sets to hard drive.

Can restore from a disk which has lost the directory reference (most ZIP programs cannot do this).

Stealth mode monitors and automatically backs up selected files as they are changed, keeping each version so that you can revert back to any previous version.

Stand-alone Stealth mode.

Command-line parameters for scheduled unattended backups. *May restore from damaged backups, or even spanned backups with missing or damaged disks (directory disk is not needed).

Extensive Device Support - CDRW, DVDRW, Internal/External/Networked Hard Drives, MO, Zip & Jazz, USB pen drives, Floppy etc. *Find a desired file within a bunch of ZIP's quickly (global search).

Burn CD direct (Windows XP only).

Does not have 2Gb and 65535 file limit of other ZIP backup programs.

Instant Backup.

Many other useful features.

tags

stealth mode restore from file within the same your data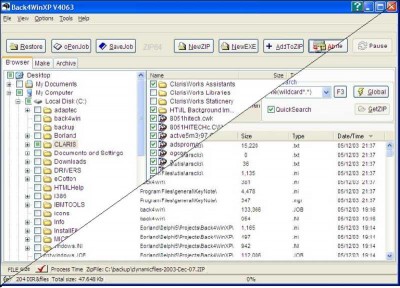 Download Back4WinXP 5074
Purchase:

Buy Back4WinXP 5074
Similar software

Back4WinXP 5074
AGM

Back4WinXP Backup solution features reliability, as well as ease of use.

Back4Win 3.6.0.0
AGM

Losing Data (computer files) is at least disconcerting, at most potential failure of your business! Back4Win, used regularly, insures your computer against data losses storing copies of the information in a safe place.

Back Me Up Backup Software 1.0
AMF Software

AMF Back Me Up is a useful, powerful and easy to use backup software.

SafetyBak 6.9
Lingle Tech

SafetyBak helps you backup your data with one click using AutoBak or schedule unattended backups.

NTI Drive Backup! 4.0.2000
NewTech Infosystems Inc

NTI Backup NOW! delivers a total solution for all your data backup needs.

ASIS Backup 2.4
SOFTOTEC

ASIS Backup - We know what you think: "Another backup utility? I have seen too many of these already.

InstantRecovery Personal Edition 4.1
NovaStor Corporation

InstantRecovery is a self-contained disaster recovery solution for PCs.

BackupOnDemand 2.7.0.4
Caddais Software

BackupOnDemand is a real-time backup tool, that runs in the background and monitors your important files for changes.

Active Backup Expert Pro 2.11
OrionSoftLab

Active Backup Expert Pro allows you to create automated or manual backups of local and network files in .

BackUp Maker 5.1 SE
ASCOMP Software

BackUp Maker will help you to get an easy to use and complex backup system at the same time.