Antechinus Animator Professional 8.6

Antechinus Animator Professional easily creates and edits animations, images, videos and sound files: over 40 formats supported.

Developer:
C Point
software by C Point →
Price:
49.00 buy →
License:
Shareware
File size:
0K
Language:
OS:
Windows Vista

(?)

Rating:

0

/5 (0 votes)
Antechinus Animator Professional easily creates and edits animations, images, videos and sound files: over 40 formats supported.Have your first animation running in LESS THAN 5 MINUTES with morphing or multitudes of other animated effects.

No need to guess: see in real time what happens as each option is changed.

Show-case your product/service or enhance your family photos with stand-alone musical slide-shows. View and organize all images on your computer.

Save time: process, convert, and do multiple changes to multiple files in ONE SINGLE go. You can even do it from other programs or command line.

Waste no time on repetitive animation/imaging jobs - Animator automates intelligently everything that can be automated.

Do with ease common animation/imaging tasks: merge animations with sound files, extract images and sounds from videos, or put videos or sound files together.

Give new life to your family photos: enhance and perfect them with over 30 filters and effects.

Optimize files to load your web pages up to 75% faster. Reduce the size of already compressed images by further 40-65% with the best compression tools available.

The preview lets you see how the image will look like and how big it will be in the optimized state. You even know how fast it will load depending on your visitors' connection speed with the built-in download time calculator.

Also, create roll-over buttons for the web with one click, and visually create image maps. Enhance the visual appeal of your images with drop shadows, embossing, and blending.

Illustrate your documents, presentations, web pages, or applications with advanced screen and resource capturing. Capture anything of any shape you see on screen, manually or automatically, or capture images, icons, and cursors embedded into programs (.exe) and dynamic libraries (.dll).

Never before seen precision polygon/freehand capturing with zoom preview. Capture images directly from scanners, cameras and other devices, to retouch and perfect them.


Antechinus Animator Professional features
Create animations straight from your favorite programs (paint applications, vector draw programs, and even Excel, Powerpoint and other Office tools)

Put still images together into an animation

Create exciting, dynamic animations from scratch

Add sound to your animations

Convert your files from one audio/animation/video/image format to another

Change size, resolution, speed, etc. of your sound files, animations, videos and images in one go

Capture anything you see on screen

Extract images, cursors and icons from programs and dll's

Optimize your images and animations for the web

Extract individual frames from your animations

Create musical slide shows

Capture from TWAIN-compatible devices such as scanners and digital cameras, retouch them to make them perfect and animate them

Create web roll-over buttons, web image maps, backgrounds and other elements

Edit your images, and make them more interesting with special effects

Create roll-over images for the web

View full screen your images in many different formats in multiple folders

Create animations on-the-fly


Limitations
It is not legal to use the trial version to produce animations, videos and images for later use.

tags

sound files your images you see the web images and roll over and other for the videos and capture images capture anything image maps from your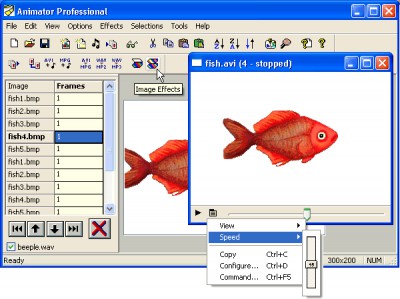 Download Antechinus Animator Professional 8.6

Download Antechinus Animator Professional 8.6

Purchase:

Buy Antechinus Animator Professional 8.6
Similar software

Antechinus Animator Professional 8.6
C Point

Antechinus Animator Professional easily creates and edits animations, images, videos and sound files: over 40 formats supported.

Antechinus Animator 5.5
C Point

Antechinus Animator: the easiest way to create AVI videos.

Antechinus Photo Magic 6.0
C Point

Photo Magic is an image editing tool that is great for: * Musical slide shows.

Easy GIF Animator 7.3
Karlis Blumentals

Easy GIF Animator is an easy to use program that creates animated GIF images.

Bannershop GIF Animator 5.0.9
Selteco

Create, edit, and optimize animated GIFs images for the Web.

XPhoto GIF Animator 1.001
OmegaSoft

XPhoto GIF Animator is a program that lets you create eye-catching GIF animations.

GIF Construction Set Pro 3.0a.12
Alchemy Mindworks

AMI GIF Construction Set Pro is the world's most widely-used Windows GIF animator to assemble, edit, and optimize animations and create transparent GIF files.

ImageMatics StillMotion Creator 1.7
NetX Corporation

The StillMotion Creator will allow you to create pan and zoom animations from still images that have been taken with digital cameras, scanned or in existing image files.

Popims Animator 1.00
Popims One SARL

Popims Animator can create animations (cartoons, morphing, warping, color filters, video) and produces animated gifs, video files, and printed images to be viewed through a specific lenticular screen called MiniPopims delivered with the software.

Animated GIF producer 5.2.04
AVLAN Design

Animated GIF Producer is a useful, quick and remarkably easy-to-use application which can create various animations, buttons and banners that will make your website shine.