SikUp! 2.21

Developer:
SikUp Development Team
software by SikUp Development Team →
Price:
29.00 buy →
License:
Shareware
File size:
0K
Language:
OS:
Windows Vista

(?)

Rating:

0

/5 (0 votes)
Need a time planner and system manager? - SikUp! is the answer

SikUp expands the bounds of your computer's possibili
tags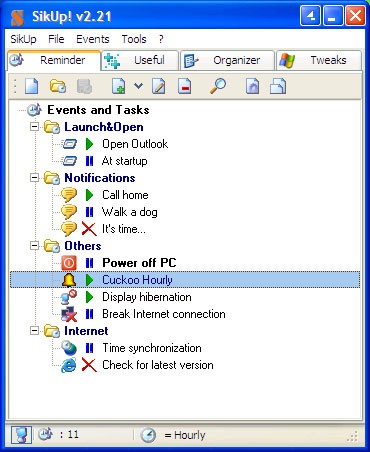 Download SikUp! 2.21
Purchase:

Buy SikUp! 2.21
Similar software

SikUp! 2.21
SikUp Development Team



Metes and Bounds 1.5.3
Sandyknoll Software

Turn Metes and Bounds data into a plot map.

IP Wedding Planner 1.01
Information Packaging

IP Wedding Planner is a personal wedding planner.

Desktop Planner 0.10
Philip Hayward

Desktop Planner is the next step in streamlining your schedule.

To Do: Daily Planner 1.0
Firebolt Software

To Do: Daily Planner is a simple and straight-forward way to organize your day.

Calendar and Day Planner (USA Edition) 2021
Eshasoft

Calendar and Day Planner eCentral is a user-friendly and fun to use all-in-one productivity tool.

Visual Day Planner 7.3
inKline Global Inc

Visual Day Planner is a fully customizable network capable calendar that allows real-time updates by multiple workgroup users.

Smartworks - Project Planner 4.9
Accord Software & Systems Inc.

Project Planner PE - A Professional Software to Plan, track and manage your projects.

Money Planner 1.0
Fantom Laboratory Ltd.

Money Planner is the software for the account and planning your income and expenses.

Daily Planner Plus 8.2
R. E. G. Software

Daily Planner Plus was designed as a capable, multi-module organizer.