Launcher 3.8

Launcher is a useful Quickstart-ToolBar for the Windows Desktop.

Developer:
Stefan Moka
software by Stefan Moka →
Price:
11.00 buy →
License:
Shareware
File size:
0K
Language:
OS:
Windows Vista

(?)

Rating:

0

/5 (0 votes)
Launcher is a useful Quickstart-ToolBar for the Windows Desktop.


Launcher features
Drop any File or Program on it and then start it with a single mouse-click (including parameters)

You can use Your own Backgrounds (8 Skins are allready included)

Change the Color very easy, to fit even better on Your Desktop

Move, Resize, Dock or Fold the ToolBar

Localized in 5 Languages. (More to come ...)

Yery small and uses little System-Resources


Limitations
The first 32 Buttons are

tags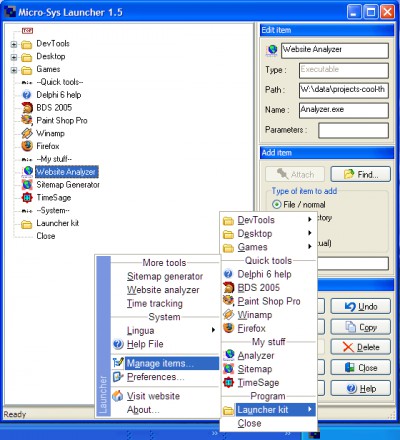 Download Launcher 3.8
Purchase:

Buy Launcher 3.8
Similar software

Launcher 3.8
Stefan Moka

Launcher is a useful Quickstart-ToolBar for the Windows Desktop.

Advanced Launcher 1.33
Alentum Software, Inc.

Advanced Launcher is an application designed as a powerful toolbar and tray launcher.

True Launcher 2.8
TrueSoftware

True Launcher is a simple, easy to use program launcher.

MouseLaunch 5.6.2
UInterface.com

MouseLaunch is useful program and file launcher which is activated by holding down Both Mouse Buttons.
Sum Quick Launcher 2.1.1.8
Deskex group

Sum Quick Launcher is a small and easy quick program launcher.

Flexiblesoft Launcher 3.1
FlexibleSoft Co.

Flexiblesoft Launcher is a small application that will allow you one mouse-click access to a pop-up menu of your favorite shortcuts, minimizing use of valuable desktop space and system resources.

Alchemy Launcher 1.2
Alchemy Lab

Alchemy Launcher is a small icon in your system tray that helps you launch any of your favorite applications with one click.

DE Launcher 2.2
DEngine software

DE Launcher is a desktop tool that will provide an alternative method of launching your favorite programs, documents and URLs and starting common Windows tasks.

Kana Launcher 3.0.0.29
Kana Solution

Kana Launcher is a Windows program that can be used to launch your favorite software or documents efficiently.

QuickStart 2.5.1
DigiArch.org

QuickStart is a simple freeware launcher for programs in your Start Menu, Favorites, Desktop, etc.