JetStart Free 4.4

JetStart Free - a program that launches start menu shortcuts.

Developer:
Code Sector Inc.
software by Code Sector Inc. →
Price:
0.00
License:
Freeware
File size:
0K
Language:
OS:
Windows Vista

(?)

Rating:

0

/5 (0 votes)
JetStart Free - a program that launches start menu shortcuts.

Tired of digging into crowded Start Menu? JetStart offers you a quick access to categorized Start Menu shortcuts, recently launched programs and system commands.

Just point your mouse to the Start Menu button! You can also place your most used programs and documents into the handy toolbar and quickly run any program by typing few starting letters. And best of all, it's completely free!

Just type a few letters and JetStart will show matching applications as you type. Once you've found a desired program, you can immediately launch, drag to desktop or unistall it.

JetStart Toolbar allows you to quckly access your favorite Windows applications.

JetStart lets you reorder buttons on your taskbar the way you like. Just drag and drop any taskbar button to the new location with mouse.


JetStart Free features
Organize shortcuts with drag and drop

Launch multiple programs at once

Activated by hot-key or from the tray icon

Drag files from Toolbar to Desktop, etc

Convenient keyboard interface

Docking to the screen edges

Freely resizeable with mouse

tags

start menu drag and and drop with mouse letters and you can menu shortcuts programs and jetstart free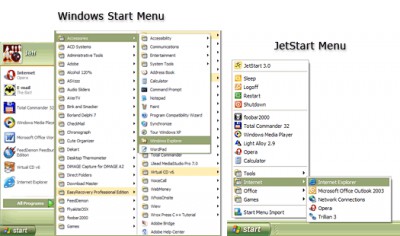 Download JetStart Free 4.4
Similar software

JetStart Free 4.4
Code Sector Inc.

JetStart Free - a program that launches start menu shortcuts.

Jet start 3.0
Code Sector Inc.

Desktop getting cluttered? Loosing valuable time finding programs or documents? Organize your stuff the way you want! JetStart provides you alternative methods of launching applications.

ToolBar 2000 7.1
Gregory Braun

ToolBar is a program that will allow you to launch your favorite programs from the Windows desktop.

Favorite Shortcuts 1.8.3
ContextMagic.com

Favorite Shortcuts is a very easy-to-use quick launch utility that provides one-click access to the hierarchical list of favorite documents, programs and folders.

QuickRun 3.12 build 943
Partridge Software

QuickRun is a handy quick-launch utility and system tray organizer for Windows 98/ME/2000/XP.

8start Launcher 1.4.1
8start.com

New era of desktop, start menu and quick launch is coming by a free application launcher 8start launcher.

Fast Launcher 3.3 Beta 1
DvaSoft

Fast Launcher is a nice replacement for Quick Launch and Start Menu.

Free Launch Bar 2.0
TrueSoft

Free Launch Bar is a Free replacement for the standard Quick Launch bar.

H-menu 5.0
HdV, Vriescheloo

H-Menu is a fully configurable launcher, yet it remains invisible until activated with the mouse.

ShellSearch 3.0
Harmony Hollow Software

ShellSearch - tired of scrolling up and down your start menu or getting sore eyes scanning your desktop for that elusive shortcut or internet Favorite you stashed somewhere months ago? ShellSearch can save hours of aggravation and lost productivity.