DiskDeleter 1.0.2

DiskDeleter is a permanent data destruction software.

Developer:
BluestSoft Inc
software by BluestSoft Inc →
Price:
39.00 buy →
License:
Demo
File size:
0K
Language:
OS:
Windows XP/Vista

(?)

Rating:

0

/5 (0 votes)
DiskDeleter is a permanent data destruction software.

This program will securely delete hard disk data on your computer to protect your personal information:

when you want to sell your computer,

when you want to discard your computer,

when you want to return a computer to your employer.

DiskDeleter is a unique program that does not require CD burning. Just Download and Click to run DiskDeleter to permanently delete your hard drive data.


DiskDeleter features
View each byte of disk contents

Securely delete hard disk data with 6 most important secure delete methods (Zero Write, Random Write, Random Random Zero, DOD 5220.22-M, NATO Standard, Peter Gutmann)

ReFormat disk

Save report on each of deleted disk. You can check the delete report by booting from the disk. - Confirm the delete result by comparing disk contents of Before Delete and After Delete

Easy to use wizard interface


Limitations
Delete-disabled

tags

you want your computer when you disk contents write random the delete computer when delete hard hard disk securely delete disk data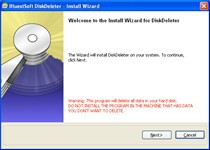 Download DiskDeleter 1.0.2
Purchase:

Buy DiskDeleter 1.0.2
Similar software

DiskDeleter 1.0.2
BluestSoft Inc

DiskDeleter is a permanent data destruction software.

g0 Secure Delete 1.0
GroundZero Security Research

g0 Secure Delete is a useful software that will keep your private files private and securely wipe them from your hard disk.

Secure File Delete ActiveX 3.0
Seekford Solutions, inc

Secure File Delete Wizard is an ActiveX control that allows you to completely wipe a file or directories data from disk securely so that there is no chance of recovery.

XL Delete 1.6.2584.28097
-XL- Development

XL Delete is a powerful secure delete tool that will permanently delete any of your files using one of its twelve different wipe methods.

Data Sanitizer 1.0.1
Disk Doctors Labs, Inc.

Disk Doctors Data Sanitizer works by unlinking a file and also specifically overwriting them with garbage data.

WinUtilities File Shredder 4.71
YL Software

WinUtilities File Shredder is a tool design to permanently delete your files so they can't be restored using recovery software.

Sure Delete 4.1.9
Wizard Industries

Sure Delete is an utility for Windows based computers to completely remove data from your hard drive.

BPS Data Shredder 1.2.0.0
Bulletproofsoft.com

BPS Data Shredder™ How secure is your Recycle Bin? You shred your confidential paper documents, but are you as careful when disposing of confidential electronic documents from your computer? You need BPS Data Shredder.

SuperShredder 1.01
AnalogX

SuperShredder gives you the ability to securely delete files.

AEVITA Erase Hard Drive 1.1
AEVITA Software Ltd

When you give away your hard drive or sell off your old computer, you are basically "licensing" the third party to access your old e-mail, private customer information, corporate secrets, and other sensitive data.