12Ghosts ShutDown 9.70

ShutDown with one click or with one key stroke.

Developer:
12Ghosts Inc
software by 12Ghosts Inc →
Price:
29.00 buy →
License:
Shareware
File size:
0K
Language:
OS:
Windows Vista

(?)

Rating:

0

/5 (0 votes)
ShutDown with one click or with one key stroke. Run maintenance programs, daily or at certain days of the week, for example scan disk and backup programs. Just one click, then leave your computer and it will power-off automatically after all programs finished.

You can initiate an "auto-logon as a different user" - without waiting for the insert-password-now dialog box to appear. Dual-boot directly into a parallel installation of Windows NT/2/XP, restarts without user intervention.

It allows you to log off your computer after a specified time of inactivity, or makes sure to restart your computer weekly. It saves you time by automating the shut down process, and even terminates not responding programs.

You save two clicks every day: Usually, you have to click three times:

1. START
2. Turn Off Computer
3. Turn Off

With 12-ShutDown you click once on an icon in the tray. That's it.
Never again forget to run backup and clean up programs at the end of the day. 12-ShutDown starts programs automatically before shut down!

Shut down is guaranteed with three increasingly powerfull termination options! Supports turn off, logoff, restart, hibernation, and even screen saver lock as well as SUPER FAST shut down!


12Ghosts ShutDown features
Shut down with different hotkeys, or a click on the tray icon

Turn off, Restart, Log Off, Hibernation, Restart Shell (Explorer)

Optional confirmation and countdown

Run programs before, e.g. backup and clean up programs

Lock settings with passwords

Restart computer at a certain time, daily or weekly

Start screen saver and immediately lock workstation, or prevent screen saver for a certain time during a slide show or paused game.

Auto-logoff and logon as different user without waiting!

Dual-boot into different Windows installations without waiting!

Terminate not responding programs or just exit Windows without shutting down

Auto-logoff the user after a certain idle time

tags

shut down turn off screen saver without waiting your computer the tray auto logoff backup and responding programs and clean certain time and even different user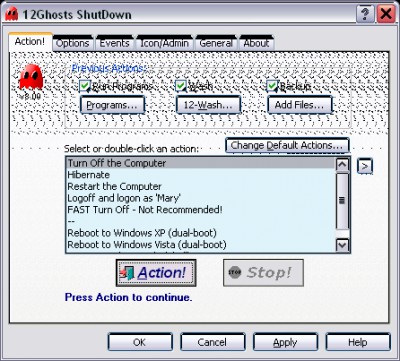 Download 12Ghosts ShutDown 9.70

Download 12Ghosts ShutDown 9.70

Purchase:

Buy 12Ghosts ShutDown 9.70
Similar software

12Ghosts ShutDown 9.70
12Ghosts Inc

ShutDown with one click or with one key stroke.

Sleepy 6.2.406
Sashazur LLC

Sleepy shuts down computers every day on a set schedule.

Perfect Shutdown 2.5
Magic Network Inc.

Perfect Shutdown for Windows is an easy to use programthat allows you to automatically shutdown, reboot, logoff your computer.

MacroSoft Power Manager 1.0
MacroSoft Corporation

MacroSoft Power Manager lets you schedule hibernation, shut down, restart, stand by, and log off events.

Intelligent Shutdown 1.25
Iasksoft

Do you want to turn off your computer automatically at a specified time?Do you want the computer to launch your programs at a scheduled time?Do you want to listen the music while you are sleeping and shutdown computer after a while?Do you want the computer to remind you at a specified time?Do you want to lock the computer and display your favorite picture on the screen at a specified time after you leave? Now you can use Intelligent Shutdown to do all these jobs.

Shutdown Scheduler 1.8.7.0
Gino Dicandio

Shutdown Scheduler is a small software that allows you to schedule your computer's shutdown(s) and/or restart(s).

Power Shutdown 2.7
Snowportion

Snowportion's Power Shutdown is an auto computer shutdown software.

Shut Down Expert 4.98
Zyl Soft

Shut Down Expert is a revolutionary new software designed for programmed turn on and turn off of the computer and extended to support other programmable local and remote events.

Shut Down or Power On Now 1.0
JenykSoft

Your computers uses 110w when first powered on, 60w when it is idle and 35w in sleep mode.
Lomsel Shutdown 1.05
Piotr Murawski

Lomsel Shutdown is a small system tool that can automatically perform various frequently used operations like shutdown or restart your computer, disconnect your current dialup connection, hibernate workstation, etc.