Zipsearch 1.2.5

Zipsearch searches compressed archives, zip files and self extracting *.

Developer:
Filehunter
software by Filehunter →
Price:
38.00 buy →
License:
Trial
File size:
0K
Language:
OS:
Windows Vista

(?)

Rating:

0

/5 (0 votes)
Zipsearch searches compressed archives, zip files and self extracting *.EXE files for misplaced files on multiple drives or directories.

Zipsearch can:

perform fast searches

search zip files and compressed archives

find numbers or strings in EXCEL files

find files before certain dates, after specific dates, within specified date ranges, outsides date ranges or within days either side of a date

show file extraction paths

search all storage devices attached to your system, including floppy drives, hard drives, CDDVD Rom drives, and network drives.

file results can be sorted by file name, file folder, size , file type, dates, number of occurrences a searchstring appears in a file and file attributes in ascending and descending order

display file properties by right clicking file results

find directories

search multiple directories and drives,

display file extensions registered on your computer,

save and load search parameters,

use modified dates and times,

match file sizes,

use case sensitive search strings,

view the number of occurences of a searchstring in a file,

view searchstrings in multiple files,

view files

search results can be printed or saved to a file for analysis

perform file operations on search results,-eg copy, move, recycle, delete and open

use multi string extensions or filenames in a continuous list

up to 90 multiple search strings

replace text within zip archives and normal uncompressed files

Search self extracting zip archives (*.EXE) and Java Class files(*.JAR)

Search multibyte unicode files - eg Chinese, Japanese


Zipsearch features
locate search searchstrings

display search results

view files

tags

search results search strings view files files search display file zip archives results can files and zip files self extracting date ranges file results compressed archives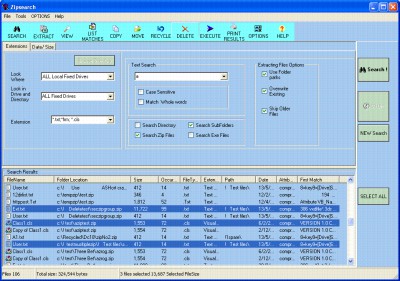 Download Zipsearch 1.2.5
Purchase:

Buy Zipsearch 1.2.5
Similar software

Zipsearch 1.2.5
Filehunter

Zipsearch searches compressed archives, zip files and self extracting *.

Filehunter 3.45
Filehunter Software

Filehunter is used to locate files, search in zip, match text.

FindReplaceExcel 2.15
Roger Adams

FindReplaceExcel is a find/replace tool for Windows to search Excel files for text, values and comments.

ZipScan 2.2c
Foobar Software

ZipScan searches archive files.

Archive Search 1.11
Gold-Software Development

Archive Search is a nice tool you can use to easily search for files inside compressed archives.

LAN Spider 2.3
Reymax Software

LAN Spider is a full-featured network file searching utility with which you can find any necessary files like Microsoft Office documents, music & video files and others in your local network without any obstructions and tiresome actions.

Power Search 1.0
K. Ranjith

Power Search finds files you never knew existed in your CD-ROM/disk, but always wanted.

Effective File Search 6.8.1
SOW

Effective File Search (EFS) is a powerful but easy to use search tool.

Cool Find 1.14
Nihuo Software

Cool Find is a powerful file search and management tool for Windows on PC&LAN.

Ace File Search 1.0
ExtBytes Software

Ace File Search is a file search utility.